We created Pandora to put the Music Genome Project directly in your hands
It's a new kind of radio –
stations that play only music you like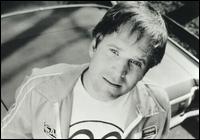 People who also like this
Singer/songwriter Jack Logan was anything but the overnight success he appeared to be at first glance -- a prolific and gifted talent, he spent over a decade as an unknown before emerging as a critic's darling with his 1994 debut,
Bulk
. A native of southern Illinois, after high school Logan and his friend Kelly Keneipp relocated to Winder, GA, a small town located near Athens, a longtime musical hotbed home to acts ranging from
R.E.M.
to
the B-52's
. Logan garnered some underground notice during the mid-'80s for creating a comic book depicting
R.E.M.
guitarist Peter Buck as a superhero, but for the most part he languished in obscurity; while he and Keneipp spent their days working in a local motor-repair shop, their evenings were devoted to writing and recording songs with a shifting coterie of friends and drinking buddies. Eventually, Logan's home recordings made their way to Buck, who recommended them to Minneapolis-based producer Peter Jesperson, best known for his discovery of
the Replacements
. After contacting Logan, Jesperson requested a few tapes; he soon received some 600 songs, recorded over the course of more than ten years. Jesperson whittled the total down to 42 for release as
Bulk
, and after a 1995 EP, Out of Whack, Logan and guitarist/keyboardist Keneipp assembled a band dubbed Liquor Cabinet to enter the studio to record 1996's Mood Elevator. Two years later, he teamed with Weird Summer frontman Bob Kimbell for the Parasol label release Little Private Angel; Tinker, credited to Jack Logan's Compulsive Recorders, appeared in late 1998, followed by 1999's solo Buzz Me In. Yet another release, the Bring Me the Head of Kelly Keneipp/Mature EP, rounded out the year. Monkey Paw appeared in spring 2001. In 2003, Logan began an unusual project with friend and producer Kevin Lane -- every Monday night, they would gather with a group of friends, write three songs on the spot, and then record them immediately using Lane's home recording setup. The result was a set of 94 songs, 15 of which were chosen for the 2005 release
Nature's Assembly Line
. In the fall of 2006, Logan joined up with Kelly Keneipp, Nicky Keneipp, Jason Gonzalez (Nutria), Rob Kellor (Workhorses), and Aaron Phillips on a new Third Creature record, Orthodox Garage. ~ Jason Ankeny, Rovi
full bio
Selected Discography
Similar Artists