We created Pandora to put the Music Genome Project directly in your hands
It's a new kind of radio –
stations that play only music you like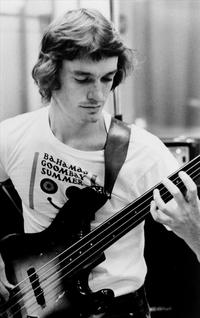 People who also like this
Jaco Pastorius was a meteor who blazed on to the scene in the 1970s, only to flame out tragically in the 1980s. With a brilliantly fleet technique and fertile melodic imagination, Pastorius made his fretless electric bass leap out from the depths of the rhythm section into the front line with fluid machine-gun-like passages that demanded attention. He also sported a strutting, dancing, flamboyant performing style and posed a further triple-threat as a talented composer, arranger and producer. He and
Stanley Clarke
were the towering influences on their instrument in the 1970s.
Born in Pennsylvania, Pastorius grew up in Fort Lauderdale, where he played with visiting R&B and pop acts while still a teenager and built a reputation as a local legend. Everything started to come together for him quickly once he started playing with another rookie fusionmeister,
Pat Metheny
, around 1974. By 1976, he had been invited to join
Weather Report
, where he remained until 1981, gradually becoming a third lead voice along with
Joe Zawinul
and
Wayne Shorter
. Outside
Weather Report
, he found himself in constant demand as a sessionman and producer, playing on
Joni Mitchell
,
Blood Sweat and Tears
,
Paul Bley
,
Bireli Lagrene
and
Ira Sullivan
albums -- and his first eponymous solo album for Epic in 1976 was hailed as a tour de force. From 1980 to 1984, he toured and recorded with his own band, the innovative
Word of Mouth
that fluctuated in size from a large combo to a big band.
Alas, Pastorius became overwhelmed by mental problems, exacerbated by drugs and alcohol in the mid-'80s, leading to several embarrassing public incidents (one was a violent crack-up on-stage at the Hollywood Bowl in mid-set at the 1984 Playboy Jazz Festival). Such episodes made him a pariah in the music business and toward the end of his life, he had become a street person, reportedly sighted in drug-infested inner-city hangouts. He died in 1987 from a physical beating sustained while trying to break into the Midnight Club in Fort Lauderdale. Almost totally forgotten at the time of his death, Pastorius was immediately canonized afterward (
Marcus Miller
wrote a tune "Mr. Pastorius" in his honor, as have many others over the years). ~ Richard S. Ginell
full bio
Selected Discography
Similar Artists