Free personalized radio that
plays the music you love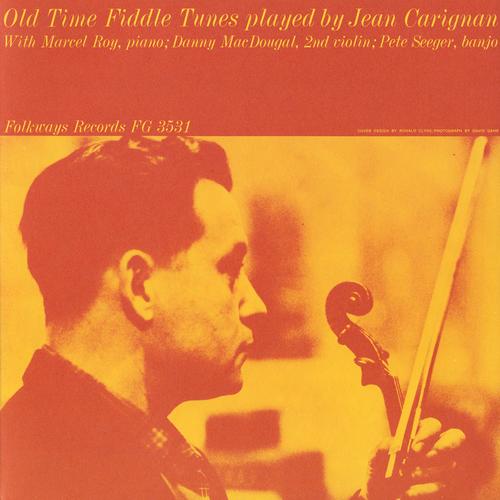 People who also like this
French-Canadian fiddle legend Jean Carignan grew up with classical violinists as his idols, and always regretted never having had "proper" violin training. With such training, he felt he might have become one of the world's great violinists. He has had to be satisfied with his position as one of the great folk fiddlers of the 20th century, building on the foundations and opportunities created by the fiddling heroes of previous generations such as
Isidore Soucy
and
Joseph Allard
. Music was passed down to Carignan, or "Ti-Jean" as he was called, from his fiddling father who in turn had picked up the art from an Indian fiddler. Carignan Sr. played regularly at house parties and dances throughout the Eastern townships of Quebec. Before young Carignan was able to start picking up music from his dad, he first had to convince him that the instrument itself wouldn't be in danger in such young hands. Carignan senior would stash the fiddle under his bed, but the little scamp would crawl under and poke at the strings, or whatever part of the instrument he was able to reach. At age four he was allowed start playing. Besides the father's influence, he was also under the sway of those magic revolving black discs known as 78s. As a youngster he was listening to violinists such as James Morrison,
Michael Coleman
,
Joseph Allard
, J. Scott Skinner, and eventually the great
Jascha Heifetz
. But while the latter was performing in prestigious concert halls, the young Carignan's main venues were public thoroughfares and he was frequently arrested for fiddling in the street rather than attending school as he was supposed to be doing. One anecdote from this period recounts how the apprehended Carignan played his fiddle for every cop in the station, each of whom gave the kid a buck if he would promise to never play in the street again. His father heard the violin music that Carignan was trying to learn and thought he was attempting something that was way out of his league. But the son was already playing like a champ fiddler at 15. For employment he became an apprentice to a shoemaker, and liked to brag later that nobody could possibly question his patriotism as he had personally cobbled the heels of thousands of pairs of boots worn by the Mounties. Later he drove taxis for a living, while practicing and performing in his spare time. Despite steady engagements as a musician, he was not able to ditch the taxicab until well into his senior years. Between 1933-1938 he toured the country as a member of George Wade's Corn Huskers, a popular folk and country band of the time.
Wade
had heard the youngster playing on the street during on his lunch break from the shoemaker. From 1936 through 1954 he performed a regular gig at St. Andrew's Dance Hall in Montreal, and also worked in the '50s as a member of Bob Hill's dance band. As his career began to take off his versatility was his greatest asset. Not only was he able to play both classical and folk music, inserting techniques and licks from the former into the latter with a relaxed ease, he was also able to play the fiddle music of three different cultures: Ireland, Scotland, and French Canada. In the '60s and '70s Carignan received an unexpected boost from the political tides. The Québecois independence movement led to a revival of various folk traditions, especially but not limited to the fiddle music. But Carignan's approach and versatility turned controversial, as many pro-Quebec types wanted him to drop the Irish and Scottish influences. He would always insist that the majority of French Canadian folk music came from these sources, and no matter how politically incorrect that opinion might have seemed at the time, he stuck by it. The early '70s was the peak of his career. He recorded a series of three albums for Philo that were beautifully recorded and received with great fanfare by folk enthusiasts. He is accompanied only by pianist Gilles Losier on these recordings, one of which was a tribute to
Joseph Allard
and another dedicated to the music of his Scottish and Irish fiddle heroes. In the mid-'70s he was the subject of two films produced by the National Film Board of Canada, both directed by Bernard Gossellin. Jean Carignan, Violin was a biographical portrait, while Les Veilles des Veilles was a cinematic sketch of the French-Canadian folk scene in which Carignan figured prominently. The honors received during the last years of his life certainly would have made his father feel good about taking the fiddle out from underneath the bed. His son performed at Carnegie Hall and the Newport Folk Festival. He was asked to perform for Queen Elizabeth not once, but several times. He was awarded an honorary doctorate from Montreal's McGill University. And the little boy who once daydreamed about playing like Heifetz lived to see the day that another great classical virtuoso, none other than
Yehudi Menuhin
, would sing his praises in a set of liner notes for a Carignan album. ~ Eugene Chadbourne
full bio
Selected Discography
Similar Artists
Don't have a Pandora account? Sign up
Already have a Pandora account? Log In