Free personalized radio that
plays the music you love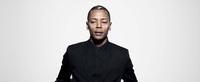 People who also like this
Jeff Mills, along with
Robert Hood
,
Carl Craig
, and
Joey Beltram
, is one of the biggest American names in techno. Championed for his music's relentless pursuit of hardness and his intense, almost industrial DJ sets (often utilizing three or four turntables or CD decks and a drum machine), Mills is one of the most significant in a long line of Detroit-bred talent to take on an international reputation. A founding member of noted Motor City institution
Underground Resistance
, Mills helped build the artist roster and label ideology (as well as much of its back catalog) with partners "Mad" Mike Banks and Robert "Noise" Hood during the late '80s and early '90s. He then moved to New York and eventually to Chicago to pursue more vigorously his solo and DJ career (with a resident spot at the legendary Limelight and a recording contract with the noted German label Tresor). (Although rumors of bad blood between the early
UR
crew have been denied by all involved, Mills' decision to split was apparently total, with Banks all but repudiating his involvement with Mills and Mills distancing himself from the continuing political militancy of Banks and the
UR
organization.) Mills'
UR
-related releases (including "The Punisher" and "Seawolf") are stripped-down and erratic, fusing elements of hardcore acid and industrial techno to the sparse Detroit aesthetic. He's continued to expand his sound and vision, often venturing into ambient and even classical music with his lengthy, conceptual albums that explore themes of futurism and classic science fiction.
Prior to his involvement in
UR
, Mills was a DJ at Detroit public radio station WDET (he was also studying architecture at the time), spinning everything from
Meat Beat Manifesto
and
Nine Inch Nails
to Chicago house and underground Detroit techno. He began producing in the mid-'80s, working with Tony Srock on the industrial project the Final Cut. Mills met Banks through a local garage group Members of the House, whom Banks was working with in the late '80s. Mills remixed a track on a
Members
12", and his and Banks' shared love of Chicago soul and the harder edge of Detroit techno blossomed into
Underground Resistance
as a combined business and creative enterprise. The pair, along with
Robert Hood
, recorded several EPs and singles together, including tracks such as "Waveform" and "Sonic," before Mills defected to New York in 1992 to pursue a residency at the Limelight club and a solo career recording for Tresor and his own label, Axis.
Mills' '90s discography includes two full-length volumes of Waveform Transmissions for Tresor, a frenetic live album (Live at the Liquid Room, Tokyo) and rarities collection (The Other Day) for the British label React, an album on Sony Japan (From the 21st), as well as a truckload of 12" EPs on Axis and several collaborations with
Robert Hood
on his M-Plant label. 1996's Purpose Maker Compilation collected Mills tracks from Axis' sub-label
Purpose Maker
, including "The Bells," which is one of techno's most iconic, inescapable tunes.
In 2000, Mills scored a new soundtrack for Fritz Lang's 1926 film Metropolis, screened around the world at venues including the Museum of Music in Paris, London's Royal Albert Hall, and the Vienna International Film Festival. The album Metropolis documented the project in 2000, the same year that the compilations The Art of Connecting and Lifelike both arrived. Studio albums At First Sight, Time Machine, and Every Dog Has Its Day (the latter recorded under the name Millsart) all appeared in 2001. In 2004 the Exhibitionist mix CD appeared, as did a mix DVD of the same name, the latter packed with extra features. Choice: A Collection of Classics was released that same year and featured Mills mixing some old personal favorites reaching back to the disco era. He also created a score for Buster Keaton 's 1923 film Three Ages, releasing it as a DVD as well as a CD. Blue Potential from 2006 was a live album recorded with the Montpellier Philharmonic Orchestra. He also celebrated the tenth anniversary of "The Bells" that year with a DVD and 12".
He continued his unstoppable run of spacy, science fiction-inspired full-lengths, as well as more club-focused 12" EPs, often on Axis or related labels. Many of these releases were chapters of a conceptual story titled The Sleeper Wakes. One Man Spaceship landed in 2006, followed by Rediscovers the Rings of Saturn (Tresor), a 2008 update of the 1992 album by Mills'
UR
-related X-102 project. Mills released solo albums The Sleeper Wakes (2009) and The Occurrence (2010) on the Third Ear label. Around this time, he also established a sub-label called Something in the Sky, releasing an extensive series of low-key 12"s. In 2011, he released 2087 and Fantastic Voyage (both inspired by science fiction films from 1966) as well as The Power. The Messenger (2012), The Jungle Planet (2013), and Emerging Crystal Universe (2014) all figured into The Sleeper Wakes story. 2014 also saw the release of Chronicles of Possible Worlds and Man from Tomorrow, both CD/DVD sets, as well as limited CD-R/12" box And What About the Truth. 2015 was even more prolific, with two-DVD/CD Exhibitionist 2, triple-CD Woman in the Moon, When Time Splits (in collaboration with pianist Mikhaïl Rudy), and Proxima Centauri (released as a limited USB key) all appearing during the year. Mills continued The Sleeper Wakes story with 2016 CD Free Fall Galaxy. ~ Sean Cooper & Paul Simpson
full bio
Selected Discography
Similar Artists
Don't have a Pandora account? Sign up
Already have a Pandora account? Log In