We created Pandora to put the Music Genome Project directly in your hands
It's a new kind of radio –
stations that play only music you like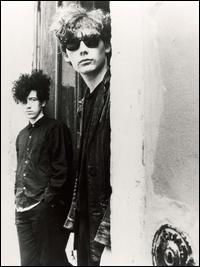 People who also like this
Like
the Velvet Underground
, their most obvious influence, the chart success of the Jesus and Mary Chain was virtually nonexistent, but their artistic impact was incalculable; quite simply, the British group made the world safe for white noise, orchestrating a sound dense in squalling feedback which served as an inspiration to everyone from
My Bloody Valentine
to
Dinosaur Jr.
Though the supporting players drifted in and out of focus, the heart of the Mary Chain remained vocalists and guitarists William and Jim Reid, Scottish-born brothers heavily influenced not only by underground legends like
the Velvets
and
the Stooges
but also by the sonic grandeur and pop savvy of Phil Spector and
Brian Wilson
. In the Jesus and Mary Chain, which the Reids formed outside of Glasgow in 1984 with bassist Douglas Hart and drummer Murray Dalglish (quickly replaced by Bobby Gillespie), these two polarized aesthetics converged; equal parts bubblegum and formless guitar distortion, their sound both celebrated pop conventions and thoroughly subverted them.
In late 1984, the band issued its seminal debut single, "Upside Down," a remarkable blast of live wire feedback anchored by a caveman-like drumbeat; the record made the Mary Chain an overnight sensation in the U.K., as did their nascent live shows, 20-minute sets of confrontational noise (performed with the band's members' backs to the audience) which frequently ended in rioting. The follow-up, "You Trip Me Up," further perfected the formula, and led to their 1985 debut LP
Psychocandy
, which gift-wrapped sweet, simple pop songs in ribbons of droning guitar fuzz. After a two-year layoff (during which time Gillespie exited to form
Primal Scream
, and was replaced by John Moore), the Jesus and Mary Chain returned with
Darklands
, a dramatic shift in approach which stripped away the feedback to expose the skeletal guitar pop at the music's core. After a sprawling 1988 collection of singles, B-sides, and demos titled
Barbed Wire Kisses
, they emerged with Automatic, which introduced a more tightly coiled brand of feedback while jettisoning Moore's live drums in favor of synthesized beats.
After another long absence, the Mary Chain (minus Hart) resurfaced in 1992 with
Honey's Dead
, and earned greater U.S. visibility thanks to a spot on that summer's Lollapalooza lineup; the first single, "Reverence," also won them renewed notoriety at home when Top of the Pops banned the song because of its opening lines, "I wanna die just like Jesus Christ" and "I wanna die just like JFK." With 1994's gentle, largely acoustic
Stoned & Dethroned
, they even reached the U.S. pop charts thanks to the lovely single "Sometimes Always," a duet with
Mazzy Star
's
Hope Sandoval
. Another collection of scattered sides,
The Jesus and Mary Chain Hate Rock 'n' Roll
, followed a year later, highlighted by the single "I Hate Rock 'n' Roll," a scabrous swipe which reclaimed the pure noise attack of their earliest work. Moving to Sub Pop, they returned with
Munki
in 1998. William Reid left the group during the subsequent tour, and in 1999, the Jesus and Mary Chain officially disbanded. ~ Jason Ankeny, Rovi
full bio
Selected Discography
Similar Artists