Free personalized radio that
plays the music you love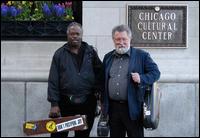 People who also like this
Since his emergence on the creative jazz and new music scene in the late '60s and early '70s, Joe McPhee has been a deeply emotional composer, improviser, and multi-instrumentalist, as well as a thoughtful conceptualist and theoretician. Born on November 3, 1939, in Miami, Florida, McPhee first began playing the trumpet at age eight. He continued on that instrument through high school and then in a U.S. Army band stationed in Germany; during his Army stint, he was first introduced to traditional jazz. Clifford Thornton's Freedom and Unity, released on the Third World label in 1967, is the first recording on which McPhee appears. In 1968, he began playing the saxophone and since then has investigated a wide range of instruments (including pocket trumpet, clarinet, valve trombone, and piano), with active involvement in both acoustic and electronic music.
McPhee's first recordings as leader appeared on the CjR label, which he founded in 1969 with painter Craig Johnson. These include Underground Railroad by the Joe McPhee Quartet in 1969, Nation Time by Joe McPhee in 1970, and Trinity by Joe McPhee, Harold E. Smith, and Mike Kull in 1971. By 1974, Swiss entrepreneur Werner X. Uehlinger had become aware of McPhee's recordings and unreleased tapes. Uehlinger was so impressed that he decided to form the Hat Hut label as a vehicle to release McPhee's work. The label's first LP was Black Magic Man, which had been recorded by McPhee in 1970. Black Magic Man was followed by The Willisau Concert and the landmark solo recording Tenor, released by Hat Hut in 1976. The earliest recordings by McPhee are often informed by the revolutionary movements of the late '60s and early '70s; for example, Nation Time is a tribute to poet
Amiri Baraka
and Joe McPhee & Survival Unit II at WBAI's Free Music Store, 1971 (finally released as a Hat Art CD in 1996) is a sometimes anguished post-
Coltrane
cry for freedom and liberation. But for the most part, McPhee's later artistic endeavors have been driven less by politics and more by the joy of sonic exploration for its own sake.
As the 1980s began, and with a number of Hat Art recordings under his belt, McPhee met composer, accordionist, performer, and educator
Pauline Oliveros
, whose theories of "deep listening" strengthened his interests in extended instrumental and electronic techniques. McPhee also read Edward de Bono's book Lateral Thinking: A Textbook of Creativity, which presents concepts for solving problems by "disrupting an apparent sequence and arriving at the solution from another angle." De Bono's theories inspired McPhee to apply this "sideways thinking" to his own work in creative improvisation, resulting in the concept of "Po Music." McPhee describes "Po Music" as a "process of provocation" that can be used to "move from one fixed set of ideas in an attempt to discover new ones." He concludes "It is a Positive, Possible, Poetic Hypothesis." The results of McPhee's application of Po principles to creative improvisation can be heard on several Hat Art recordings, including Topology, Linear B, and Oleo & a Future Retrospective.
Although his work was well documented on Hat Hut, McPhee had never secured a contract with a United States-based label and was still a relative unknown in his home country as the 1980s progressed and he went on hiatus to care for his aging parents. McPhee re-emerged into the performing and recording world during the 1990s and finally began to attract wider attention from the North American creative jazz community. He has since been performing and recording prodigiously as both leader and collaborator, appearing on such labels as CIMP, Okka Disc, Music & Arts, and Victo. In 1996, 20 years after Tenor, Hatology released As Serious as Your Life, a second solo recording (this time featuring McPhee performing on various instruments). McPhee also began a fruitful relationship with Chicago reedman
Ken Vandermark
, engaging in a set of improvisational dialogues with
Vandermark
and bassist Kent Kessler on the 1998 Okka Disc CD A Meeting in Chicago. The
Vandermark
connection also led to McPhee's appearance on the Peter Brötzmann Chicago Octet/Tentet three-CD box set released by Okka Disc that same year.
As the 1990s drew to a close, McPhee formed a trio with bassist Dominic Duval and drummer Jay Rosen and premiered the new ensemble at a New York City jazz festival. Given the lack of press attention they received, McPhee, Duval, and Rosen decided that an apt title for the group would be
Trio X
. A number of
Trio X
recordings have since been released on Cadence Jazz and CIMP, including Rapture (1998), The Watermelon Suite (1999), On Tour: Toronto/Rochester (2001), In Black and White (2002), Journey (2003), and The Sugar Hill Suite (2004), and the band has received favorable critical notice for these recordings as well as for its live concert and festival appearances. In October 2008,
Trio X
embarked on a tenth anniversary tour in the U.S. and also released a limited-edition seven-CD box set documenting seven concerts recorded in the Midwest and New York state. The 21st century saw McPhee release No Greater Love (2000), Voices: Ten Improvisations (2008), and Tomorrow Came Today (2009).
McPhee's schedule in the second decade of the new century was relentless. His touring remained nearly constant, and his many recording projects displayed new and familiar collaborations as well as the release of many archival documents. In 2010, he issued Blue Chicago Blues in duo with bassist Ingebrigt Haker Flaten;
Trio X
also issued a four-disc box of 2000s/2010s live material. That year also saw Corbett vs. Dempsey release the retrospective Solo (1968-1973). 2011 saw no less than half-a-dozen releases, including Creole Gardens (A New Orleans Suite) with drummer Michael Zerang, Ibsen's Ghosts with Haker Flaten, Jeb Bishop, and Zerang, and OTO in collaboration with Decoy. In 2012, McPhee took part in the international tribute concert to
Albert Ayler
on the 40th anniversary of his passing. McPhee closed the show performing solo, which was documented on the Rogue Art album 13 Miniatures for Albert Ayler. He also released further collaborations with Haker Flaten and Decoy, as well as Ithaca with pianist
Eli Keszler
. The following year saw no less than ten releases in a variety of contexts. Among them were the Complete Nation Time Recordings (Corbett vs. Dempsey), What / If / They Both Could Fly in duo with
Evan Parker
, the solo Sonic Elements (both from CleanFeed), Last Notes with
Thurston Moore
and Bill Nace, Red Sky with drummer Paal Nilssen-Love, and his slots as a featured soloist on Trespass Trio's Human Encore, and the Deep Listening Band's Looking Back.
McPhee's touring schedule with
Trio X
took up much of his time in 2014 (it resulted in more concert recordings), but he managed to issue two dates on his own that year as well: Quod with Jean-Marc Foussat and Sylvain Guérineau, and a collaboration with Konstrukt entitled Babylon. That latter working relationship continued into the next year with If You Have Time. 2015 found McPhee returning to CleanFeed on Skullduggery, a collaboration album with the Amsterdam-based trio Universal Indians. Not Two issued This Is Our Language, a quartet session with Rodrigo Amado, Chris Corsano, and Kent Kessler. A pair of important archival sets were released, as well, Solos: The Lost Tapes 1980/1981/1984 on Roaratorio, and the extended EP, Alone Together: The Solo Ensemble Recordings 1974 & 1979 from Corbett vs. Dempsey. Nilssen-Love's
PNL
label issued Soul Stream, a quartet with the drummer, Lasse Marhaug, and Japanese koto master Michiyo Yagi.
PNL
also issued a seven-disc box set of his duos with McPhee called Candy. The trumpeter/saxophonist spent the first eight months of 2016 touring the U.S. and Europe (including a gig with Universal Indians at AylerFest 2016). His recordings included The Paris Concert in trio with guitarist Raymond Boni and synthesist Jean-Marc Foussat, the archival Zurich (1979), and a vinyl issue of Soul Stream.
With a career now spanning well over half-a-century, and appearances on over 100 recordings, McPhee has shown that emotional content and theoretical underpinnings are thoroughly compatible -- and in fact, a critically important pairing -- in the world of creative improvised music. ~ Dave Lynch
full bio
Selected Discography
Similar Artists
Don't have a Pandora account? Sign up
Already have a Pandora account? Log In