Free personalized radio that
plays the music you love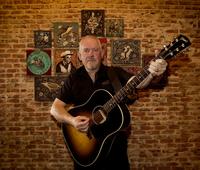 People who also like this
There's a jolly absurdity in that one of the most important figures on the independent Americana scene and one of the most prolific figures in Chicago's musical community is a guy from Wales who helped found an enduring U.K. punk outfit. But since the mid-'80s, Jon Langford has been a key figure in the nexus between country and punk rock, as well as a vital collaborator with a wealth of musicians from around the world.
Jonathan Denis Langford was born in Newport, Wales on October 11, 1957. From an early age, he had an artistic bent and an interest in politics, and when he relocated to Leeds, England to study art at the University of Leeds, he fell in with a group of fellow students who had been emboldened by the burgeoning punk/new wave scene. With Tom Greenhalgh, Langford co-founded the band
the Mekons
; Langford was originally the group's drummer, but as various members dropped out and were replaced, Langford moved to guitar, and became one of the group's vocalists and songwriters. Originally a purposefully sloppy punk band fascinated with the politics of daily life,
the Mekons
began to expand creatively by the time they released their debut album in 1979, The Quality of Mercy Is Not Strnen, exploring folk and electronic sounds before they went on hiatus in 1982. Langford soon formed a new combo, the guitar-and-drum machine provocateurs
the Three Johns
, who released seven albums and co-existed with
the Mekons
after they returned to duty in 1985, having become involved in the movement to support striking miners in the UK. Langford's passion for classic country music had caught on with the new
Mekons
lineup, and their next three albums -- Fear and Whiskey (1985), The Edge of the World (1986), and Mekon's Honky Tonkin' (1987) -- would fuse raucous roadhouse country with angular rock music and clever, booze-soaked political observations. During this period,
the Mekons
developed a cult following in the United States, leading to a short-lived alliance with A&M Records, and the band's own Sin Records label was bankrolled by a fan in Chicago; not surprisingly, several members of the band (though not all) relocated to the United States, and in the early '90s, Langford settled in Chicago, marrying a woman he met there.
In 1993, after deals with A&M and a Warner Bros.' alternative subsidiary crashed and burned, sapping
the Mekons
' energy, the group struck a deal with Quarterstick Records, a side label of the venerable Chicago indie imprint Touch & Go, and
the Mekons
had a stable stateside label at last, who released 1993's I (Heart) Mekons as well as a variety of new projects and reissues. The following year, Langford would team up with another Chicago indie, Bloodshot Records, who specialized in what they called "Insurgent Country." Langford contributed two songs to Bloodshot's debut release, the 1994 compilation Insurgent Country, Vol. 1: For a Life of Sin, and his latest side project,
the Waco Brothers
, cut their debut album, To the Last Dead Cowboy, for Bloodshot in 1995. Langford quipped that he'd formed
the Waco Brothers
so he and his friends (mostly U.K. expatriates) would have a band that could play for beer in their Windy City hometown, but
the Wacos
, fusing rowdy rock and high-kicking country with blue-collar leftist lyrics, soon became one of Langford's most popular projects, a potent live draw that racked up respectable sales for albums such as Cowboy in Flames (1997) and Electric Waco Chair (2000). In 1995, Langford released his first solo album, a collection of Johnny Cash covers titled Misery Loves Company, credited to Jon Langford & the Pine Valley Cosmonauts. Langford would revive
the Pine Valley Cosmonauts
handle for a series of records in which he and a floating crew of players would collaborate with other musicians or pay homage to artists they admired, including 1998's The Pine Valley Cosmonauts Salute the Majesty of Bob Wills, 2000's Beneath the Country Underdog (with
Kelly Hogan
), and 2013's Stranger in My Land (with
Roger Knox
, a celebrated Australian Aboriginal country singer). Langford also performed and recorded with Katrin Bornfeld, aka Kat Ex, the percussionist with the experimental rock band the Ex, in a duo called Katkonband. And in 1998, Langford released the album
Skull Orchard
, which would lend its name to another loose ensemble that would help Langford cut 2010's Old Devils.
When not occupied with
the Mekons
,
the Waco Brothers
, or his other side projects, Langford frequently guests on albums by like-minded artists, ranging from
Alejandro Escovedo
and the Old 97's to
the Sadies
,
Richard Buckner
, and
Gary Lucas
. Langford is also a political activist who campaigned to end the death penalty in Chicago, and who works with labor groups. Langford is an honorary board member of the Chicago-based group Rock for Kids, which provides music education for disadvantaged youth, and he's performed with the children's rock band
Wee Hairy Beasties
. Langford is also an acclaimed visual artist whose work has graced album covers by
Buddy Guy
,
Jim Lauderdale
,
Hound Dog Taylor
,
Rosie Flores
, and
Waylon Jennings
; Langford included a portfolio of paintings with his 2014 album with
Skull Orchard
, Here Be Monsters. ~ Mark Deming
full bio
Selected Discography
Similar Artists
Don't have a Pandora account? Sign up
Already have a Pandora account? Log In