Free personalized radio that
plays the music you love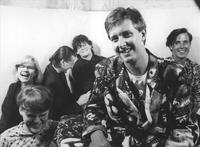 People who also like this
Although Knoxville, TN's JudyBats managed a few minor college radio hits, their brand of genial, folk-inflected college rock was rendered passé around the time Nevermind came out, which limited their commercial success considerably. This was a shame, because although their albums were extremely uneven, the group's best tracks were something special.
The JudyBats formed in Knoxville in 1988, initially consisting of University of Tennessee students Jeff Heiskell on vocals, Johnny Sughrue on acoustic guitar, and Ed Winters on electric guitar. The nascent group took their distinctive name from a friend's unrecorded song, which featured the line "punch me with a judybat," a reference to medieval Punch and Judy puppet shows. The trio slowly added keyboardist Peggy Hambright (whose occasional violin and backing vocals were an integral part of the group's early sound), bassist Timothy Stutz, and drummer Terry Casper, and after a self-released demo cassette attracted considerable local attention, the group was signed to Sire Records in 1990.
After debuting on Sire's fine 1990
Roky Erickson
tribute Where the Pyramid Meets the Eye (despite the fact that only Stutz had ever even heard of
Erickson
when the band were asked to appear), the JudyBats released 1991's Native Son. By far the folkiest of the group's albums, the album garnered generally positive reviews and college radio warmed to the atypically synth-poppy single "Don't Drop the Baby," but sales were uninspiring. 1992's Down in the Shacks Where the Satellite Dishes Grow was a more eclectic affair featuring a much stronger set of songs, but although it's by far the JudyBats' best album, it did not build on the modest alternative success of Native Son.
Casper had already left the band prior to the recording of the second album (session drummer Kevin Jarvis had filled in), but the JudyBats underwent a massive restructuring afterwards. Hambright and Stutz both left the band (Hambright supposedly quitting in disgust when Sire's product manager told her to lose weight), with their places taken by bassist Paul Noe and drummer Dave Jenkins. 1993's Pain Makes You Beautiful debuted a much less musically unique JudyBats, their musical idiosyncrasies held in check in favor of a slicker sound more in keeping with the burgeoning adult album alternative radio format. However, Heiskell's always-quirky lyrics were odder than ever, from "Ugly on the Outside" (about hiding one's unattractive significant other from one's friends) to the S&M-tinged title track. Both the first single "Being Simple" and the glorious "All Day Afternoon" managed some radio airplay and the album sold better than its predecessors, but the expected wider commercial breakthrough didn't come.
1994's Full-Empty sounded like a desperate bid for that commercial breakthrough, from Heiskell's drastically changed singing style (previously, he'd sung in a nasal Tennessee twang, here replaced by a much smoother, deeper, and less interesting voice) to the slicker production. A pointless remake of
the Bee Gees
' "Jive Talkin'," which adds nothing to the song and sounds like a cynical bid to jump on the retro bandwagon, is the nadir, though a couple of the tracks aren't as bad as all that. Following this album's commercial flop, Sire dropped the band. Winters left the group to return to school, followed by Sughrue. The JudyBats split up in early 1995, with Heiskell, Noe, and Jenkins forming the short-lived dance-pop Doubter's Club soon after. (Noe and Jenkins left that group after one album, 1996's Fleur de Lisa, to form the mod-pop Nevers with a former member of the V-Roys.)
Unexpectedly, the JudyBats reformed in 1999, with Heiskell and Sughrue newly backed by bassist Rob Bell and identical twins Doug Hairrell and Mike Hairrell on guitar and drums. The new lineup self-released JudyBats '00 a year later. ~ Stewart Mason
full bio
Selected Discography
Similar Artists
Don't have a Pandora account? Sign up
Already have a Pandora account? Log In