We created Pandora to put the Music Genome Project directly in your hands
It's a new kind of radio –
stations that play only music you like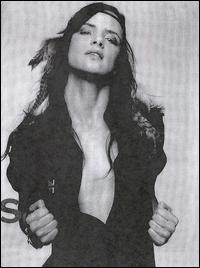 People who also like this
She's played quite a few high-energy freaks for Hollywood, but none of her silver screen characters can prepare audiences for the over-the-top ferociousness Juliette Lewis unleashes when fronting her band, the New Romantiques. Lewis' first public flirtations with rock & roll can be traced back to 1994 when she appeared in the video for
Melissa Etheridge
's "Come to My Window." A year later she was singing
PJ Harvey
's "Hardly Wait" in the film Strange Days, but musical aspirations would only be hinted at for the next eight years. Film work took up Lewis' time until she took a break from it in 2003. That year she appeared in the video for
H.I.M.
's "Buried Alive by Love" and rounded up her first four-piece band, the Licks. It was at Johnny Depp's club, the Viper Room, that audiences first got to hear the
Van Halen
-meets-
Iggy Pop
sound of the Licks and the first time they got to hear the songs Lewis had been writing with hit songwriter
Linda Perry
. The band toured the West Coast hard for the next year with Lewis hitting the stage in spandex, high-heeled boots, and other attire that shouted "rocker." Audience and critical reaction to the Licks' live show varied from positive to blown away. In September 2004, Lewis appeared as vocalist and co-songwriter on
the Prodigy
's album
Always Outnumbered, Never Outgunned
.
A month later the Licks' debut EP, ...Like a Bolt of Lightning, was released on Fiddler Records. More touring -- including a stint on the tenth annual Vans Warped Tour -- followed before Juliette and the Licks released their full-length debut,
You're Speaking My Language
, in May 2005. The band hit the road again to support the album and began writing songs for their sophomore release along the way. Their drummer split by the end of the tour, but
Nirvana
/
Foo Fighters
drummer Dave Grohl saved the day. While he had originally planned to just help with some demos, he stayed with the band for the recording of the album
Four on the Floor
, which was released in late 2006. The
Four on the Floor
DVD was released in December 2007. In 2009 she returned with a new band, the New Romantiques. plus a new album.
Terra Incognita
, meaning "unknown territory. The title was fitting as the sound was much different than her previous work, thanks in part to the album's producer,
Omar Rodriguez-Lopez
of
the Mars Volta
. ~ David Jeffries, Rovi
full bio
Selected Discography
Similar Artists