Free personalized radio that
plays the music you love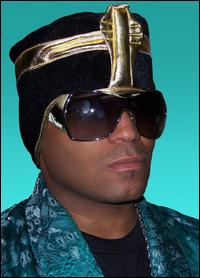 People who also like this
After single-handedly redefining "warped" as the mind and mouth behind the Bronx-based
Ultramagnetic MC's
, "Kool" Keith Thornton -- aka Rhythm X, aka Dr. Octagon, aka Dr. Dooom, aka Mr. Gerbik -- headed for the outer reaches of the stratosphere with a variety of solo projects. A onetime psychiatric patient at Bellevue, Keith's lyrical thematics remained as free-flowing here as they ever were with the N.Y.C. trio, connecting up complex meters with fierce, layers-deep metaphors and veiled criticisms of those who "water down the sound that comes from the ghetto." His own debut single, "Earth People" by Dr. Octagon, was quietly released in late 1995 on the San Francisco-based Bulk Recordings, and the track spread like wildfire through the hip-hop underground, as did the subsequent self-titled full-length released the following year.
Featuring internationally renowned
DJ Q-Bert
(of
Invisibl Skratch Piklz
) on turntables, as well as
the Automator
and
DJ Shadow
behind the boards, Dr. Octagon's left-field fusion of sound collage, fierce turntable work, and bizarre, impressionistic rapping found audiences in the most unlikely of places, from hardcore hip-hop heads to jaded rock critics. Although a somewhat sophomoric preoccupation with body parts and scatology tended to dominate the album, Keith's complex weave of associations and shifting references is quite often amazing in its intricacy. The record found its way to the U.K.-based abstract hip-hop imprint Mo'Wax (for whom
Shadow
also recorded) in mid-1996, and was licensed by the label for European release (Mo'Wax also released a DJ-friendly instrumental version of the album titled, appropriately, The Instrumentalyst [Octagon Beats]).
The widespread popularity of the album eventually landed Keith at DreamWorks in 1997; the label gave Dr. Octagon (retitled Dr. Octagonecologyst) its third release mid-year, adding a number of bonus cuts. In early 1999, however, Keith's alter ego Dr. Dooom unfortunately "killed off" Dr. Octagon on the opening track of First Come, First Served (released on Thornton's own Funky A** label). Kool Keith signed to Ruffhouse/MCA for his second album under
that
alias, 1999's Black Elvis/Lost in Space. Records released as Kool Keith followed in 2000 (Matthew) and 2001 (Spankmaster), while the 2002 collaboration Gene appeared as KHM (Kool Keith plus H-Bomb and Marc Live). His next project was a four-rapper group named Thee Undatakerz with Keith taking on a new persona, Reverend Tom. Kool Keith Presents Thee Undatakerz hit the streets in May 2004. Keeping busy, Keith released Diesel Truckers in August of the same year with old friend/producer KutMasta Kurt.
As if 2004 hadn't been filled with enough Kool Keith releases, some truly oddball ones started to appear that year. The Official Space Tape borrowed from previous releases to create the ultimate Keith mixtape, the R&B-leaning Personal Album was released in a limited edition of 500 and with a high price tag, plus the Real Talk label issued Dr. Octagon, Pt. 2, an unauthorized release that had little to do with the original and was quickly pulled from the shelves by court order. The next year was much calmer with the Global Enlightenment, Pt. 1 DVD being released at the beginning of the year, followed by Lost Masters, Vol. 2 in the summer. Nogatco Rd. from 2006 introduced a new character, Mr. Nogatco ("Octagon" backwards). The UFO-obsessed album was a collaboration with producer
Iz-Real
. The two-CD Collabs Tape compilation and The Return of Dr. Octagon followed soon after. In early 2007, Keith was part of an
Ultramagnetic MC's
reunion that yielded Best Kept Secret. Tashan Dorrsett, another concept-driven release from Keith, was released in 2009 with the remix album The Legend of Tashan Dorrsett following in 2011. His 2012 album, Love and Danger, hinted at retirement with songs like "Goodbye Rap," but he was still in business in 2013, making a guest appearance on the
Yeah Yeah Yeahs
album Mosquito. In 2015 he collaborated with L'Orange and received co-billing with the producer on their album Time? Astonishing! ~ Sean Cooper, Rovi
full bio
Selected Discography
Similar Artists
Don't have a Pandora account? Sign up
Already have a Pandora account? Log In