We created Pandora to put the Music Genome Project directly in your hands
It's a new kind of radio –
stations that play only music you like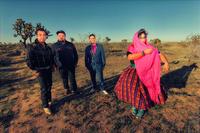 People who also like this
Hailing from Los Angeles, La Santa Cecilia is a "new thing" Latin group that draws inspiration from all over the world, utilizing Pan-American rhythms from cumbia, bossa nova, rhumba, bolero, and tango, and marrying them to rock, soul, R&B, ska, jazz, and klezmer.
La Santa Cecilia (named for the patron saint of musicians) was formed in 2007 as a sextet. Its founding members were guitarist Gloria Estrada, accordionist and requintero Pepe Carlos, bassist Alex Bendaña, percussionist Miguel "Oso" Ramirez, drummer Hugo Vargas, and lead vocalist Marisol "La Marisoul" Hernandez. Its members were either born in or brought to the United States when they were very young. While they all grew up with traditional forms of Latin music at home, they were also exposed to the sounds of American pop culture: rock, soul, blues, jazz, funk, punk, ska, reggae, and other world sounds that played freely on the airwaves and in neighborhoods. They played block parties, bars, coffee houses, and the occasional opening gig for out of town acts and at festivals.
The band recorded its self-titled debut EP in 2009. Aside from terrific songwriting and performances, the CD package revealed something else that was different about this group: they wanted to be part of their community. They sponsored "painting parties" where they would play and design and hand paint their CD covers with friends and fans, using materials that ranged from recycled newsprint to wrapping paper to card stock and beyond. No two covers were alike and were therefore art objects. Local notice spread about the group's music, and they received local airplay and were able to play more shows and festivals. Their incendiary live performances garnered them a fanatic fan base, and music from the EP was eventually featured in the cable series Weeds and in the documentary film Re-Encounters (about Oaxacan artist Alejandro Santiago), and elsewhere.
The group's second EP, Noche y Citas, was released in 2010 and garnered further critical acclaim, and the group began to tour in Mexico and, eventually, throughout North America. Their third EP featured four covers as well an original song. The covers ranged from
Gloria Jones
' "Tainted Love" and
U2
's "One" to the late
Lhasa de Sela
's "Love Came Here" and "Viento" by
Caifanes
, displaying not only their range but their commitment to a variety of music.
With growing popularity at home and abroad, La Santa Cecilia signed to Universal and pared the core of the group down to La Marisoul, Bendaña, Carlos, and Ramirez. Their debut album, Treinta Dias, was released in May of 2013, and became the Hot Shot Debut of the Week on Billboard's Latin pop albums chart and in February 2014, won the Grammy award for "Best Latin Rock, Urban or Alternative Album." In March less than a month after winning, Someday New, their followup and its single "Cumbia Morada," were released. ~ Thom Jurek
full bio
Selected Discography
Similar Artists