Free personalized radio that
plays the music you love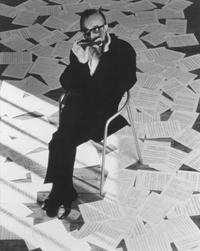 People who also like this
Larry Adler was an internationally renowned harmonica virtuoso whose jazz and European classical interpretations brought unprecedented amount of attention and acclaim to the humble mouth organ. The son of Russian Jewish immigrants (the family name was changed from Zelakovitch), Lawrence Cecil Adler was born on February 10, 1914 in Baltimore. His first performing idol was
Al Jolson
; he also admired comedian
George Jessel
and worked as a sidekick for
Eddie Cantor
, whom he resembled. Adler's career as a professional mouth organist began when, at the age of 14, he won a statewide harmonica competition with an abbreviated rendition of Beethoven's Minuet in G. He then surprised his family by moving to New York City without parental permission.
After briefly serving as an intermission performer for Rudy Vallée, he convinced bandleader Paul Ash to help him secure a $100 per week contract with a traveling variety show that entertained audiences between films in Paramount theaters. Adler's direct involvement with cinema began when he synchronized a harmonica solo with the soundtrack of a newly developed animated "sound cartoon." He recorded with vocalist
Ruth Etting
and appeared with her, Gus Edwards, and tap dancer Bill "Bojangles" Robinson at Broadway's Palace Theater in 1929, and in Flo Ziegfeld's Smiles with
Fred
and Adele Astaire in 1931.
The catalyst for a turning point in Adler's career was Maurice Ravel's Bolero, which he initially presented at the Blackhawk in San Francisco, using a dance band arrangement by Hal Kemp. As a part of a "prologue" to
Eddie Cantor
's film Roman Scandals, Adler performed Bolero at Grauman's Chinese Theater in Hollywood. Unfamiliar with the time signature of the work as written and convinced that the orchestra was lagging, he improvised wildly while waving his free arm as if "chopping an invisible tree." This extroverted display, which he would later describe as "corny Sturm und Drang," brought down the house and earned him immediate renown. Adler became a high-profile participant in Hollywood social life. In 1934 he appeared in the film Many Happy Returns with Ray Milland, Burns & Allen, and
Duke Ellington
, and was filmed in heavy "Chinese" makeup for a sequence in Busby Berkeley's The Singing Marine. Adler performed duets with
George Gershwin
, whose "Rhapsody in Blue" would become one of the staples in his repertoire, which also included mouth organ adaptations of violin concerti by
Antonio Vivaldi
and
J.S. Bach
as well as works composed expressly for him and his instrument by
Malcolm Arnold
, Arthur Benjamin, Jean Berger, Darius Milhaud, Cyril Scott, Graham Whettam, and Ralph Vaughan Williams.
Adler's adventures as a jazz musician included making records with Gypsy swing guitarist
Django Reinhardt
in 1938. He later wrote: "If I work with an
Ellington
, a
Django
, a
Bill Evans
, a
Dizzy Gillespie
, I play at the top of my form or even beyond it. I know that I could not duplicate the solos I recorded with
Django Reinhardt
, because there is no longer a
Django
to inspire me." During World War II, Adler performed worldwide, often appearing with comedian
Jack Benny
and at one point obtaining an emergency ration of mouth organs from the newly liberated Hohner factory at Trossingen in the Black Forest. An outspoken opponent of "any dogma that puts the mind in blinkers and forbids the free discussion of ideas," Adler was blacklisted during Senator Joseph McCarthy's witch hunts, and his Academy Award-nominated score for the film Genevieve was credited to studio orchestra conductor Muir Mathieson. In dramatic contrast to this indignity, Adler was the first person from the U.S.A. to receive the coveted Grand Prix du Disque for his recording of "Le Grisbi," a melody used in the French gangster film Touchez-pas au Grisbi, starring Jean Gabin. He performed and recorded with some of the world's top conductors, and claimed that the "musical high point" of his life occurred at the Royal Albert Hall in 1952 when he played before
the London Symphony Orchestra
under the leadership of Sir Malcolm Sargent.
Adler spent most of the second half of his life in the U.K.; was featured with violinist
Itzhak Perlman
in a telecast duet performance of "Summertime" in 1981; collaborated with
Sting
on Ten Summoner's Tales; accompanied vocalist
Kate Bush
in a version of "The Man I Love" in 1994 on his last great project, the all-star tribute album The Glory of Gershwin; and passed away in London on August 7, 2001, at the age of 87. Larry Adler's autobiography, It Ain't Necessarily So, is filled with historic insights and the sort of humorous gut-level honesty that characterized his personality. ~ arwulf arwulf
full bio
Selected Discography
Similar Artists
Don't have a Pandora account? Sign up
Already have a Pandora account? Log In