Free personalized radio that
plays the music you love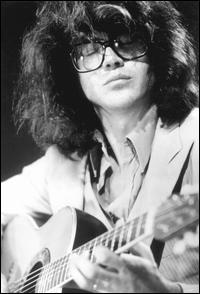 People who also like this
Larry Coryell, Victor Bailey, Lenny White
As one of the pioneers of jazz-rock -- perhaps
the
pioneer in the ears of some -- Larry Coryell deserves a special place in the history books. He brought what amounted to a nearly alien sensibility to jazz electric guitar playing in the 1960s, a hard-edged, cutting tone, phrasing and note-bending that owed as much to blues, rock and even country as it did to earlier, smoother bop influences. Yet as a true eclectic, armed with a brilliant technique, he is comfortable in almost every style, covering almost every base from the most decibel-heavy, distortion-laden electric work to the most delicate, soothing, intricate lines on acoustic guitar. Unfortunately, a lot of his most crucial electric work from the '60s and '70s is missing on CD, tied up by the erratic reissue schemes of Vanguard, RCA and other labels, and by jazz-rock's myopically low level of status in the CD era (although that mindset is slowly changing).
According to Coryell, his interest in jazz took hold at the age of four, and after his family moved from Galveston to the state of Washington three years later, he began to learn the guitar, studying records by
Tal Farlow
,
Barney Kessel
and
Johnny Smith
. As a teenager, he played in a band led by pianist Mike Mandel, and by 1965, he gave up his journalism studies at the University of Washington in order to try his luck in New York as a musician. Before the year was out, he attracted much attention jamming in Greenwich Village and replaced
Gabor Szabo
in
Chico Hamilton
's band. In 1966, he made a startling recorded debut on
Hamilton
's The Dealer album, where his blues and rock ideas came to the fore, and that year, he also played with a proto-jazz-rock band,
the Free Spirits
. Coryell's name spread even further in 1967-68 when he played with
Gary Burton
's combo, and he was one of the most prominent solo voices on
Herbie Mann
's popular Memphis Underground album (recorded in 1968). He, Mandel and Steve Marcus formed a group called Foreplay in 1969 (no relation to today's
Fourplay
), and by 1973, this became the core of the jazz-rock band Eleventh House, which after a promising start ran aground with a string of albums of variable quality.
In 1975, Coryell pulled the plug, concentrating on acoustic guitar and turning in a prolific series of duo and trio sessions with the likes of
Philip Catherine
,
Emily Remler
,
John Scofield
,
Joe Beck
,
Steve Khan
and
John McLaughlin
. In the mid-'80s, Coryell toured with
McLaughlin
and
Paco DeLucia
, and in 1986 participated in a five-way guitar session with his old idol
Farlow
,
Scofield
,
Larry Carlton
and
John Abercrombie
for the
Jazzvisions
series. Coryell has also recorded with
Stephane Grappelli
,
Charles Mingus
,
Sonny Rollins
and
Kenny Barron
, and has taped Brazilian music with
Dori Caymmi
for CTI, mainstream jazz for Muse, solo guitar for Shanachie and Acoustic Music, and (for Nippon Phonogram in Japan) an album of classical transcriptions of music by Stravinsky and Rimsky-Korsakov. In other words, Coryell will probably remain as eclectic as ever throughout his career, which will no doubt make life difficult for musicologists with a yen for pigeonholing. Coryell's career in the 21st century has been just as active. 2004 saw the release of Tricycles, an excellent trio date with drummer Paul Wertico and bassist
Mark Egan
. Electric from 2005 found Coryell playing jazz standards and rock anthems with Lenny White on drums and Victor Bailey on electric bass. In 2006, he released the performance album Laid Back & Blues: Live at the Sky Church in Seattle. ~ Richard S. Ginell, Rovi
full bio
Similar Artists
Don't have a Pandora account? Sign up
Already have a Pandora account? Log In