Free personalized radio that
plays the music you love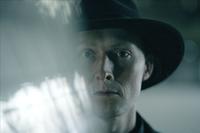 People who also like this
Lawrence English is an artist, composer, engineer, writer, and curator based in Brisbane, Australia. Often described as ambient music or drone, his recordings and performances typically utilize field recordings and found sounds in order to explore the politics of perception. Some of his later work (such as the acclaimed Wilderness of Mirrors) is heavier and noisier, expressing bleakness, desolation, and loneliness through waves of distortion. English has released dozens of solo and collaborative recordings on labels including 12k, Line, and Touch. He also runs the Room40 label (which has issued recordings by
Tim Hecker
,
Ben Frost
,
Mike Cooper
, and many others) as well as its related labels Someone Good and A Guide to Saints. English has also created audio-visual installations for numerous galleries and art spaces across the world. He has also written for several publications, including The Wire and Cyclic Defrost.
English initially began making music during the '90s, working with a few industrial and alternative rock bands. He founded Room40 in 2000, and began releasing his experimental recordings, including music commissioned for his installations. In 2002, he released Calm under the name I/O, and he performed as part of trio I/O3, which worked with
David Toop
,
Scanner
, and
DJ Olive
. In 2003, Quatermass released Pandemic, an experimental hip-hop album English recorded under the name
Object
. His first solo works under his own name were Transit (Cajid Media) and Happiness Will Befall (Crónica), both in 2005. For Varying Degrees of Winter appeared on Baskaru in 2007, and collaborations with Domenico Sciajno (Merola Shoulders) and Ai Yamamoto (Plateau) were both released on Phono-Statique Records that same year. English collaborated with
Tujiko Noriko
and
John Chantler
for an album titled U, released by Room40 in 2008. Also that year, English's album Kiri No Oto was released by Touch in 2008, gaining him more exposure and acclaim. A Colour for Autumn (featuring contributions by
Fennesz
and Dean Roberts) was released by 12k in 2009. Also released that year were HB (with Francisco López) on Baskaru and It's Up to Us to Live on Sirr. Both A Colour for Autumn and Kiri No Oto were subsequently issued on vinyl by Digitalis.
In 2010, English collaborated with
Minamo
for an album titled A Path Less Traveled (Room40), and Touch released his single Incongruous Harmonies as part of their 7" series. The Peregrine, inspired by J.A. Baker's novel of the same name, appeared on Experimedia in 2011. A collaboration with
Stephen Vitiello
titled Acute Inbetweens was released by Crónica that year. In 2012, English released For/Not for John Cage on
Richard Chartier
's Line label. He also released two digital-only albums of field recordings (Songs of the Living, And the Lived In) on Room40. In 2013, Important Records issued English's vinyl-only drone album Lonely Women's Club. He also released a split LP with Alberto Boccardi, a split 7" with
Xiu Xiu
, a collaboration with Akio Suzuki (Boombana Echoes), and a self-titled LP by Slow Walkers, his collaboration with
Grouper
. Wilderness of Mirrors (Room40) and collaborations with
Stephen Vitiello
(Fable, Dragon's Eye Recordings) and Werner Dafeldecker (Shadow of the Monolith, Holotype Editions) were released in 2014. English's Viento album was issued on vinyl by Taiga Records in 2015. His album Approaching Nothing was released by Baskaru in 2016. ~ Paul Simpson
full bio
Selected Discography
Similar Artists
Don't have a Pandora account? Sign up
Already have a Pandora account? Log In