We created Pandora to put the Music Genome Project directly in your hands
It's a new kind of radio –
stations that play only music you like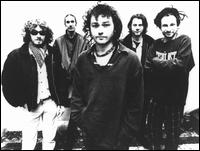 People who also like this
The Levellers formed in 1988, bringing together five Brighton, England, musicians --
Mark Chadwick
(vocals, guitar, banjo), Alan Miles (vocals, guitar, mandolin, harmonica), Jeremy Cunningham (bass, bouzouki), Charlie Heather (drums), and Jon Sevink (fiddle). Forging out a pseudo-hippie, slightly punky folk-rock with a Celtic flavoring, the band released two EPs on their own Hag label in 1989, which led to a contract with Musidisc. The band released their first album,
A Weapon Called the Word
, in 1990; after its release Miles quit the band -- he was quickly replaced by Simon Friend. The following year, the Levellers left the Musidisc label, moving to China Records. Later in the year they released
Levelling the Land
, which entered the U.K. charts at number 14 and would later go gold. "One Way," the first single from the album, hit number one on the indie charts and the band's tour was sold-out. All of the success led to an American record contract with Elektra. The Levellers' success continued throughout 1992, with more sold-out European tours and the hit Fifteen Years EP; even with all of their success, the band was only able to make a small impression in America. Throughout 1993, the band worked on their second album,
Levellers
; in the meantime, they continued touring and released the singles compilation, See Nothing, Hear Nothing, Do Something.
Levellers
didn't contain the same amount of hits, nor did it earn the same amount of positive press as their debut, yet the band's devoted following did not diminish. Zeitgeist followed in 1995 to mixed reviews, and the group's following began to diminish somewhat. In 1996, the band released Live: Headlights, White Lines, Black Tar Rivers. The band explored alternative guitar pop on 1997's
Mouth to Mouth
, followed by a greatest hits collection (One Way of Life: The Best of the Levellers) in 1998. After a lengthy hiatus, the group stormed back in 2003 with
Green Blade Rising
, an anthemic return to form that was echoed in 2005 with the similarly rousing
Truth & Lies
. While much of remainder of the decade was spent consolidating their fanbase with a number of prestigious European festival dates, 2008 brought the idiosyncratically political Letters From the Underground. Issued in the year of their 20th anniversary, it was the first studio album to be released on their own On The Fiddle label and their most successful disc since 2000's
Hello Pig
. Following
Chadwick
's late 2010 solo venture,
All the Pieces
, the new year saw the Levellers embark on a celebratory UK tour, performing
Levelling the Land
in its entirety a full 20 years after its release. Their raw, Czech Republic-recorded 10th studio album, Static on the Airwaves, arrived in summer 2012 and included the raucous single "Truth Is". ~ Stephen Thomas Erlewine, Rovi
full bio
Selected Discography
Similar Artists