Free personalized radio that
plays the music you love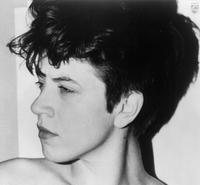 People who also like this
A musician, songwriter, poet, painter, author, and actress, Lizzy Mercier Descloux enjoyed a recording career as eclectic as her résumé would suggest, breaking boundaries as one of the pioneers of New York's no wave scene as well as fusing African rhythms with R&B and pop, anticipating the worldbeat movement before it became a music business buzzword. Mercier Descloux was born in Paris, France on December 16, 1956. She studied art as a teenager, and struck up a romance with Michel Esteban, who like Lizzy was a music fan with a taste for innovative sounds. Esteban ran a new wave boutique, Harry Cover, that was across the street from her apartment, and together they launched a magazine, Rock News, that specialized in coverage of the budding punk and new wave scene. In 1976, Mercier Descloux and Esteban left Paris for New York City, where he worked for
John Cale
's Spy Records and she struck up a friendship with
Patti Smith
, with the two publishing a joint volume of poetry titled Desiderata. The book also featured contributions from
Richard Hell
, who became Mercier Descloux's significant other after Esteban broke up with her, insisting they should not be lovers and work together at the same time. (Despite the breakup, Esteban and Mercier Descloux remained close lifelong friends.)
Like many on New York's underground art and music scene, Mercier Descloux decided she wanted to make music rather than watch from the sidelines, and after buying a guitar, she formed a short-lived band called
Rosa Yemen
. Esteban believed she had talent, and when he formed ZE Records with Michael Zilkha,
Rosa Yemen
became one of their first signings. Their debut EP made little impression, but after
Rosa Yemen
broke up, ZE opted to hold onto Mercier Descloux as a solo artist. Her solo debut, 1979's Press Color, was an ambitious and stylistically diverse set that merged cool dance grooves with harsh, minimal guitar runs and unusual harmonies. ZE had struck up a distribution deal with Buddah Records (whose releases were in turn distributed by industry powerhouse Arista Records), but Press Color was clearly not one of the larger label's priorities and it fared poorly commercially. However, the album received enthusiastic notices in Europe, and thanks to the interest of Island Records prexy Chris Blackwell, Mercier Descloux and Esteban were able to travel to Nassau in the Bahamas to record her second solo set at Compass Point Studios. Mercier Descloux had become a passionate fan of traditional African music, and with the help of keyboardist and producer
Wally Badarou
, she created 1981's Mambo Nassau, a churning mixture of African sounds, alternative rock, and American funk and soul. Once again, American audiences didn't warm to the album, but Mambo Nassau was a success in France, enough so that Mercier Descloux landed a record deal with CBS' French office.
Eager to learn more about African music firsthand, Mercier Descloux journeyed from Ethiopia to South Africa, defying Apartheid laws to meet and work with some of Soweto's finest musicians. After cutting a pair of singles for CBS ("Mister Soweto" b/w "Don't You Try to Stop Me" and "Maita" b/w "Les Baisers d'Amants," the latter her first single in her native French), Mercier Descloux's third album, 1984's Zulu Rock, was a set of songs deeply influenced by South African rhythms that anticipated
Paul Simon
's Graceland by two years and spawned a major hit single in France, "Mais où Sont Passées les Gazelles?" For her next project, Mercier Descloux hoped to record in New Orleans with a band featuring both local Cajun and zydeco musicians as well as the South African artists she had discovered in Soweto; however, South African authorities refused to grant the visas that would allow the musicians to travel to the United States. Instead, Mercier Descloux traveled to Rio de Janeiro, where she recorded 1986's One for the Soul with producer Adam Kidron and a crew of Brazilian musicians, with jazz legend
Chet Baker
sitting in on several tracks. One for the Soul was Mercier Descloux's first album for Polydor Records, and didn't match the commercial and critical success of Zulu Rock, though it would come to be regarded as one of her strongest works. Released in 1988, Suspense was recorded in England and produced in part by Mark Cunningham, a former member of the no wave ensemble
Mars
and an old friend from Mercier Descloux's days in New York. The album was largely overlooked by fans and critics, and while Mercier Descloux would record another album in New York City in 1995, it was never released.
With her career in music stuck in neutral, Mercier Descloux moved to Corsica, where she renewed her interest in painting and visual art, as well as writing a novel, Buenaventura, that has never been published. Mercier Descloux still kept one foot in music, writing and recording short pieces for film soundtracks. In 2003, Mercier Descloux received the news that she had been diagnosed with cancer, and while she remained upbeat through treatment, on April 20, 2004, she lost her life at the age of 47. Michel Esteban has since worked to keep her music in the public eye, and in 2015 he partnered with reissue label Light in the Attic to present new upgraded editions of the five albums she released in her lifetime. ~ Mark Deming
full bio
Selected Discography
Similar Artists
Don't have a Pandora account? Sign up
Already have a Pandora account? Log In