We created Pandora to put the Music Genome Project directly in your hands
It's a new kind of radio –
stations that play only music you like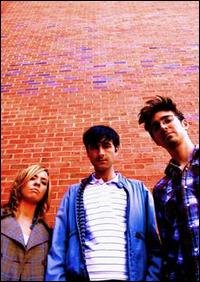 People who also like this
Though the Lodger were formed in 2004, indie pop fans who remember a time before
the Strokes
will find their chiming, artfully un-artful strummy guitar pop endearingly evocative of the twee pop sound of the 1980s and '90s. Strong echoes of
the Wedding Present
,
the Smiths
,
Talulah Gosh
and their offshoots, and seemingly dozens of others are inescapable in Ben Siddall's urgent up-and-down guitar riffs and his somewhat adenoidal boy-next-door vocals, which themselves sound directly inspired by
the Television Personalities
' Dan Treacy. The sound is so authentic that Slumberland Records, one of the key players in '90s twee pop, became the British trio's U.S. label. The Lodger were formed in Leeds in 2004 by vocalist, guitarist, and songwriter Siddall, with bassist Lisa Harker and drummer Bruce Renshaw. Signing to the hot local indie Dance to the Radio, the Lodger released the singles "Many Thanks for Your Honest Opinion" and "Watching" in 2005, along with tracks on two of the label's compilation albums. Before recording started on the Lodger's first album, Harker and Renshaw left, replaced with bassist Joe Margetts and drummer Katie James. The revised lineup recorded its debut album in Sheffield with
Arctic Monkeys
producer Alan Smyth, including new versions of the previously released singles. Following the teaser singles "Let Her Go" and "Kicking Sand,"
Grown-Ups
was released in the early summer of 2007. The Lodger (now featuring Bruce Renshaw on drums) followed up in 2008 with
Life Is Sweet
, an album that showed their songwriting growing by leaps and bounds. After the release of an EP (I Think I Need You) for Elefant in 2009, the band returned with its third album,
Flashbacks
, in the spring of 2010. ~ Stewart Mason, Rovi
full bio
Similar Artists