Free personalized radio that
plays the music you love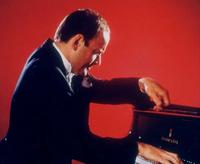 People who also like this
French-Canadian pianist Louis Lortie achieved international recognition by his mid-twenties. His strong, sensitively crafted playing has served him well in a repertory of considerable breadth, with a concentration on composers from the late Classical period to the early 20th century.
After studying with Yvonne Hubert, Lortie made his first professional public appearance as soloist with the Montreal Symphony Orchestra. He was 13 years old and, wisely, elected not to pursue a concert career immediately. After winning first prize in Canada's two premiere competitions, the Canadian National Music Competition and the CBC National Competition when he was 16, he made what he considers his official debut with the
Toronto Symphony
in 1978 and joined the orchestra in a subsequent tour of Japan and the People's Republic of China. While in his early twenties, Lortie moved to Baltimore in order to work with
Leon Fleisher
and expand his knowledge of piano literature.
In 1984, Lortie was first prizewinner of the Busoni International Competition and a prizewinner as well at the Leeds Piano Competition. Following his exposure to European culture and the recognition resulting from his successes in competition, Lortie undertook a more extensive number of concert engagements and his first recording in 1986.
Within the first few years of an active career, Lortie performed throughout the United States, Canada, and Europe. His engagements included dates with the
Cleveland Orchestra
, the
San Francisco Symphony
, the
Houston Symphony
, the
Dallas Symphony
, the
Saint Louis Symphony
, the Los Angeles Philharmonic, the
BBC Philharmonic
, the
Royal Scottish National Orchestra
, the
Deutsche Symphonie Orchester
, and the
Orchestre National de France
. With the latter ensemble he performed on tour.
Over the course of a number of summers, Lortie performed with the Montréal Symphony in program series devoted to a single composer. Complete cycles of the 32 Beethoven sonatas have been given in London, Toronto, Berlin, and Milan.
Few pianists have enjoyed such a long-term and mutually satisfying relationship with a recording company as that existing between Lortie and Chandos. Lortie has been afforded the opportunity to preserve his interpretations of composers extending from
Mozart
to Ligeti. Among them is his collection of the complete piano works of Ravel, a set that has received several awards. His recordings of Chopin's Preludes and Etudes are also of particular interest.
Having found exposure to a variety of performing traditions of great value, Lortie has taught at the piano institute at Imola, Italy, when his schedule has allowed. That school's philosophy is congenial to him and he has been pleased to work with advanced students similarly interested in a concert career.
Lortie was honored by being made an Officer of the Order of Canada, and he was made a Knight of the National Order of Quebec.
full bio
Selected Discography
x

Track List:
Vol 2 Nocturnes Balladen
Title:
Nocturnes (3) For Piano, Op. 15, Ct. 111-113
Title:
Ballade For Piano No. 1 In G Minor, Op. 23, Ct. 2
Title:
Nocturnes (3) For Piano, Op. 15, Ct. 111-113
Title:
Ballade For Piano No. 2 In F Major, Op. 38, Ct. 3
Title:
Nocturne For Piano No. 2 In E Flat Major, Op. 9/2, Ct. 109
Title:
Nocturnes (2) For Piano, Op. 48, Ct. 120-121
Title:
Ballade For Piano No. 3 In A Flat Major, Op. 47, Ct. 4
Title:
Nocturnes (2) For Piano, Op. 55, Ct. 122-123
Title:
Ballade For Piano No. 4 In F Minor, Op. 52, Ct. 5
Title:
Berceuse For Piano In D Flat Major, Op. 57, Ct. 7
Title:
Nocturne For Piano No. 5 In F Sharp Major, Op. 15/2, Ct. 112
Title:
Barcarolle For Piano In F Sharp Major, Op. 60, Ct. 6
Similar Artists
Don't have a Pandora account? Sign up
Already have a Pandora account? Log In