We created Pandora to put the Music Genome Project directly in your hands
It's a new kind of radio –
stations that play only music you like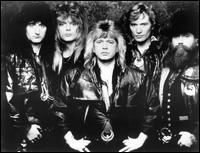 People who also like this
Hard rockers Magnum got their start in Birmingham, England, in the mid-'70s. The band's first album,
Kingdom of Madness
, came out in 1978, right in the midst of the punk rock musical revolution. That timing may be one factor contributing to the band's unknown status. 1979 saw the release of Magnum II. After extensive gigging, the group released Marauder, a live album in 1980, and
Chase the Dragon
came two years later. Going back to their "album-a-year" pace, The Eleventh Hour was released in 1983. The band went two years between discs again, with On a Storyteller's Night not being released until 1985, but the time seemed to have done some good for them. The album was well-received and their fame was growing in Europe. Their next disc was produced by
Roger Taylor
(
Queen
) and
Vigilante
(1986) continued the group's rise. The true fruition came with
Wings of Heaven
the following year, as it made several charts in England. 1990 saw the next studio release, Goodnight L.A., and an album of rarities, entitled Spirit: A History, came the next year. By 1992, the band had recorded their next release, Sleepwalking. They decided to call it quits in 1994, releasing
Rock Art
and commencing on a farewell tour. The tour was documented with the live album The Last Dance (1996). Little did they know at the time that the breakup was not a permanent one and the band re-assembled in 2001 to record a new album, Breath of Life, released in 2002. The disc reunited original members Bob Catley and Tony Clarkin with '80s keyboardist Mark Stanway. Magnum followed up Breath of Life with their twelfth studio album, 2004's
Brand New Morning
.
Princess Alice and the Broken
arrow followed in 2007, named in part after an orphanage in Birmingham, UK, that member Tony Clarkin had close ties to, the album went on to reach the UK top 75 album chart, the first time in some 15 years for the band. 2009 saw the release of
Into the Valley of the Moonking
which was followed by 2011's The Visitation. Celebrating their tenth anniversary since reforming in 2001, Magnum also released the collection Evolution, at the end of 2011. The band's thirteenth studio album,
On the 13th Day
was released in 2012. ~ Gary Hill, Rovi
full bio
Selected Discography
Similar Artists