Free personalized radio that
plays the music you love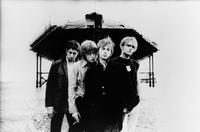 People who also like this
Arriving in the aftermath of Brit-pop, Mansun was one of the first British guitar bands to depart from the prevailing styles of the mid-'90s, leaving both light,
Beatlesque
pop and studied trad-rock behind. Mansun had more in common with early-'90s bands like
Suede
and
the Manic Street Preachers
, groups that stood defiantly outside of the pop spotlight, yet managed to cultivate a devoted fan base. By combining a dark, grandiose vision with the driving intensity of hard rock and the stylish swagger of New Romanticism, Mansun didn't sound a thing like their contemporaries. While their first singles earned a devoted audience, the British music press didn't focus heavily on the group, so it came as a surprise when their debut album, Attack of the Grey Lantern, debuted at number one in early 1997, knocking the long-awaited
Blur
comeback off the top of the charts. But by that time, Mansun had been hailed as one of the best new bands of the year, and the record was praised throughout the U.K. music press, making the group one of the most respected and popular new British groups of 1997.
Led by guitarist/vocalist
Paul Draper
, Mansun formed in Chester, England in the mid-'90s. Draper met Stove King (bass) at Wrexham Art College, discovering that the pair shared a fondness for new wave acts like
Duran Duran
and
ABC
, as well as
Prince
,
Pink Floyd
, and
David Bowie
. The pair, who worked at a photo laboratory together, met Dominic Chad (lead guitar) at a local pub he was managing. Forming under the name Grey Lantern, the trio began playing, supported by a series of drummers. After being told by an acquaintance that Grey Lantern was the worst name he had ever heard, the group changed their name to Mansun, which was a truncation of a
Verve
B-side "A Man Called Sun."
Early in 1996, the group released the limited-edition single "Take It Easy Chicken" on their own Sci Fi Hi Fi label, and it entered the playlist for Radio 1. Shortly afterward, Andy Rathbone became their permanent drummer. Initially, the U.K. music weeklies tagged Mansun as one of the crowd of post-
Oasis
, lad-rock bands, primarily because of Chad's heavy drinking and alcohol-fueled antics. Over the course of the year, the guitarist sobered up and the band released a series of singles, each more ambitious than the one before. By the end of the year, they had earned their first Melody Maker cover. In February of 1997, Mansun released their debut album Attack of the Grey Lantern on Parlophone Records. It unexpectedly entered the charts at number one, earning enthusiastic reviews in the process. Six appeared two years later; it didn't fare as well as their first album, but Mansun wowed college audiences with the title track. The band's third effort, Little Kix, did even worse, barely receiving recognition in the States when it appeared in summer 2000. Although work began on a fourth album in spring 2002, Mansun split up in May 2003. The results of the new material appeared on the two-disc collection Kleptomania in 2004. ~ Stephen Thomas Erlewine
full bio
Selected Discography
Similar Artists
Don't have a Pandora account? Sign up
Already have a Pandora account? Log In