We created Pandora to put the Music Genome Project directly in your hands
It's a new kind of radio –
stations that play only music you like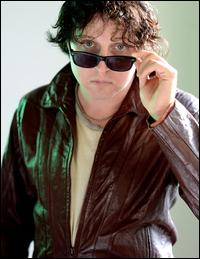 People who also like this
Minneapolis by way of Milwaukee singer/songwriter Mark Mallman got his start with trashy glam rockers the Odd in the late '90s (prior to that, Mallman had been in a few bands with future
Promise Ring
leader Davey VonBohlen). But the group was almost over as soon as it began, and Mallman launched a solo career straight away. In 1998 came the release of Mallman's solo debut, The Tourist, while the VonBohlen side project Vermont recorded a Mallman original composition ("We Only Have Each Other in the Night") for a split 7" single. On December 10, 1999, Mallman received some publicity when he performed a never-ending song he dubbed "Marathon" for 26 hours with a rotating cast of 28 musicians and 312 pages of lyrics.
In 2000, Mallman issued his sophomore effort, How I Lost My Life and Lived to Tell About It, which featured guest spots by Kat Bjelland (ex-
Babes in Toyland
), Ed Ackerson (
Polara
), and Mallman's old pal, VonBohlen. A third release, Mark Mallman & Vermont, followed a year later. The Red Bedroom, his fourth album, was issued in spring 2002. It was produced by
Radiohead
producer Paul Q. Kolderie. The Who's Gonna Save You Now? EP and the live effort Live from First Avenue, Minneapolis were released in 2003.
Mr. Serious
, Mallman's first self-produced album, followed in 2004. It marked his first album for Badman.
Between the Devil and Middle C
arrived in 2006, followed in 2008 by
Night Shot
, the latter of which was attributed to
Ruby Isle
, a collaboration between Mallman, Kindercore Records co-founder Dan Geller, and drummer Aaron LeMay. Mallman stepped back into his solo guise for 2009's
Invincible Criminal
and 2012's Double Silhouette. ~ Greg Prato, Rovi
full bio
Selected Discography
Similar Artists