Free personalized radio that
plays the music you love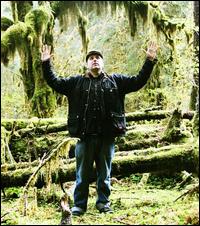 People who also like this
Mark Sultan has become one of the leading figures on the Canadian garage punk scene, cranking out high-test rock & roll with a handful of memorable bands as well as making a name for himself as a solo act. Hailing from Montreal, Sultan was a preteen metal fan with a taste for
Black Sabbath
and
Iron Maiden
before he was introduced to hardcore punk at the age of 12, and moved on to raw '60s sounds and garage punk when he was 16. Sultan first began playing out when he signed on as drummer for a band called Powersquat, but his reputation really took off when he helped form
the Spaceshits
in 1995, moving from the drum kit to the lead vocal mike.
The Spaceshits
were infamous in Canada for their raucous, over the top live shows that sometimes turned violent, leading to them being banned from many clubs, and they released their first 7" EP, "I'm Dead," in 1996. In 1997 they dropped their first full-length album, Winter Dance Party, through the celebrated American indie label Sympathy for the Record Industry, and they recorded two more LPs before the band called it quits in 1999.
In 2000, Sultan (who sometimes billed himself as "Mark Spaceshit" or "Bridge Mixture") launched a new band with several other former
Spaceshits
,
Les Sexareenos
, a less aggressive but more raucous act whose first album, Les Live! In the Bed, came out that same year. Sultan, who played drums and sang in
Les Sexareenos
, also formed his own indie label, Sultan Records, which distributed records by like-minded Canadian acts such as the Deadly Snakes,
the Scat Rag Boosters
, the Daylight Lovers, and others. By 2003,
Les Sexareenos
had run their course, and Sultan began performing as a one-man band, handling guitar, drums, and vocals at once and calling the new project BBQ; BBQ's self-titled debut album was released through Alien Snatch Records in 2003. The year 2005 proved to be very busy for Sultan; the legendary underground label Bomp Records issued his second BBQ LP, Tie Your Noose, while another Sultan project,
the Mind Controls
(with Mark on guitar and vocals), released their debut single, and Sultan and former
Spaceshits
bassist
King Khan
began touring as a double act and released The King Khan & BBQ Show.
A second King Khan & BBQ Show album came out in 2006, and in 2007 Sultan released his first album under his own name, The Sultanic Verses, followed by more touring, both alone and with
King Khan
. Two years later, Sultan along with members of
the Black Lips
and the King Khan & BBQ Show joined forces to form Almighty Defenders, a gospel-tinged garage rock supergroup. On the solo front, 2010's $ explored Sultan's noisier, more stretched-out musical side, continuing the following year with Whatever I Want and Whenever I Want (and Whatever, Whenever, a selection of tracks from both) as Sultan eschewed his one-man recording style for a full band, featuring musicians such as Dan Kroha (
the Gories
), Bradford Cox (
Deerhunter
), and Erin Wood (
the Spits
). Sultan returned to his original one-man-band style, as well as his old handle, on the 2017 album BBQ - Mark Sultan. ~ Mark Deming
full bio
Selected Discography
Similar Artists
Don't have a Pandora account? Sign up
Already have a Pandora account? Log In