We created Pandora to put the Music Genome Project directly in your hands
It's a new kind of radio –
stations that play only music you like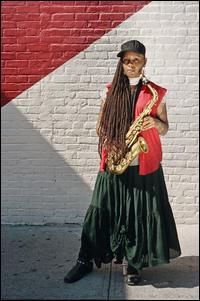 People who also like this
Matana Roberts is a saxophonist, writer, composer, bandleader, and mixed-sound artist who lives in New York City. She is best known as the creator of the multi-volume conceptual work
Coin Coin
.
Roberts was born and raised on the south side of Chicago to parents who had come through the radical changes brought on by the civil rights, political, and anti-war struggles of the 1960s. They exposed her, from a very young age, to arts, culture, and politics, from the established to the radical. Roberts began her musical training at the age of seven in the city's public school system. She studied clarinet, violin, and bassoon. At the age of 16, under the tutelage of bassist Reginald Willis, she began to study the saxophone and improvisation. It was an immersive experience that changed the course of her life. She was a full participant in Chicago's myriad music and art scenes. As a musician, she played with experimental rock, Latin R&B, and jazz acts. She was also an avid writer who began self-publishing 'zines and tracts, and participated in the theater community by composing and performing music. Another early influence was saxophonist, composer, and owner of the famed Velvet Lounge,
Fred Anderson
.
From 2000-2009 she was an associate member of joined Chicago's famed Association for the Advancement of Creative Musicians (AACM), though she joined after leaving Chicago for New York. There she met other ex-pat Chicagoans (and AACM members), including
Muhal Richard Abrams
, Amina Claudine Myers,
Roscoe Mitchell
,
Anthony Braxton
, and
Nicole Mitchell
.
Along with drummer Chad Taylor and bassist
Josh Abrams
, she formed the trio Sticks & Stones. Their self-released debut was issued in 2002, followed by Shed Grace for Thrill Jockey in 2004. She began gigging, working with other players and establishing herself as a session and live player. In 2005, she began to work on composing and workshopping the
Coin Coin
cycle. She also worked with the Burnt Sugar collective, as well as
William Parker
and rock groups including
Godspeed! You Black Emperor
and
TV on the Radio
. In 2006, she self-released her first date as a leader, Lines for Lacy, followed by The Calling in 2007.
In 2008, Roberts saw the issuance of her quartet offering, The Chicago Project, on
Barry Adamson
's Central Control label. The set was produced by
Vijay Iyer
. This was followed by international touring and other collaborations, including her appearance on Thee Silver Mount Zion Memorial Orchestra's Kollaps Tradixionales. After witnessing a performance of
Coin Coin Chapter One
with her Montreal ensemble, that city's Constellation label approached her about making a record. She proposed her multi-volume
Coin Coin
project; they agreed without reservation. In February of 2011, her Live in London offering was released by
Adamson
's label, followed by
Coin Coin Chapter One: Gens de Couleur Libre
in May. The album was universally acclaimed. Following more touring and collaborative work, she released
Coin Coin Chapter Two: Mississippi Moonchile
, in October of 2013, the second volume in the 12-part series. ~ Thom Jurek, Rovi
full bio
Selected Discography
Similar Artists