We created Pandora to put the Music Genome Project directly in your hands
It's a new kind of radio –
stations that play only music you like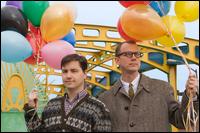 People who also like this
Matmos was one of the more unlikely left-field experimental electronic acts to appear when their self-titled debut was quietly released on their own Vague Terrain label at the beginning of 1997. Based in San Francisco and completely out of the largely U.K.-dominated electronica loop, the duo (Drew Daniel and Martin C. Schmidt) stood little chance of being heard among the din of marketing budgets and entrenched proppers of popular mainstays such as Warp, Rephlex, and Astralwerks and encroaching big-name acts such as
the Chemical Brothers
and
the Prodigy
. Closer in spirit to the American indie underground (a notion buoyed by a flood of early press in fixtures such as Alternative Press, Magnet, and Option), the group was also embraced by hardcores of the
Autechre
/
Aphex
/
µ-Ziq
ilk, leading to a feature in highbrow U.K. avant-garde stalwart The Wire and interest from a number of notable European labels.
Although only the pair's first release, Matmos' microscopic abuse of sourcings as varied as electric guitars, freshly cut hair, the amplified neural activity of crayfish, and the human voice (there are a few synthesizers and drum machines in there as well) was instantly distinguishing, conveying an experimental ardor several flow diagrams removed from the more dance-entrenched U.K. electronica scene. While with Matmos that experimentalism is elevated to method, in fact both Schmidt's and Daniel's musical pasts are littered with strange associations, the most bizarre of which is probably King G & the J Krew, a "white funk/rap" outfit that also included Jason Noble (currently of indie salon/string quartet group
Rachel's
). Schmidt was a founding member of avant-garde electronic group X/I and worked with San Francisco-based experimental music collective IAO Core alongside current members of groups such as
Amber Asylum
and
Tipsy
.
Matmos began as a long-distance tape exchange project while Daniel was living in London (he's originally from Kentucky), with the pair settling in the San Francisco Bay area (where Daniel was pursuing a Ph.D.) in the mid-'90s. Schmidt, a visual artist, also co-manages the San Francisco Art Institute's New Genres department. Several releases followed prior to the new millennium: Quasi-Objects (1998) and West (1999).
A Chance to Cut Is a Chance to Cure
followed in 2001. For 2003's
The Civil War
, the duo took inspiration from medieval music and 19th century American folk, while the following year's
Rat Relocation Program
further reconfigured samples that were used on
A Chance to Cut Is a Chance to Cure
. Matmos also worked with
Björk
, both in the studio and on tour, on her albums
Vespertine
and
Medúlla
. She returned the favor by appearing on their 2006 album
The Rose Has Teeth in the Mouth of a Beast
, a collection of "audio portraits" that also included cameos by
Antony
of
Antony and the Johnsons
and Kalonica McQuesten. Daniel and Schmidt moved in a purely electronic direction for 2008's The Supreme Balloon, which was crafted entirely out of vintage synthesizers and featured the Sun Ra Arkestra's Marshall Allen and Keith Fullerton Whitman among Matmos' collaborators. That year, they also collaborated with Lesser and Wobbly on a series of improvised recordings made for Hollow Earth Internet Radio that ultimately became their 2010 album Simultaneous Quodlibet, then worked with So Percussion on that year's Treasure State. The duo contributed remixes to Jefferson Friedman's Quartets as performed by the Chiara Quartet in 2011. The following year, it was announced that Matmos had moved to the Thrill Jockey label, which released The Ganzfeld EP -- a set of songs inspired by telepathy -- that October. The full-length The Marriage of True Minds arrived in early 2013. ~ Sean Cooper, Rovi
full bio
Selected Discography
Similar Artists