Free personalized radio that
plays the music you love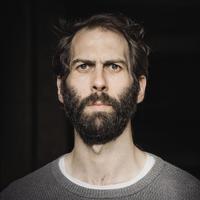 People who also like this
A dynamic, forceful, and risk-taking pianist, Matthew Bourne defies pigeonholing but is kin to artists on the nu-jazz scene. Categories such as this deny his broad appeal, however. He draws not only upon the jazz piano tradition of
Count Basie
,
Bill Evans
,
Herbie Hancock
, and
Thelonious Monk
, themselves a varied assortment, but also upon the worlds of pop and classical music, in the latter case immersing himself in the avant-garde. Additionally, he has ventured into electronic music, collaborating with downtempo artists
Broadway Project
and
Bonobo
, as well as paying tribute to
Kraftwerk
with French experimental guitarist Franck Vigroux.
Born in 1977 in Avebury, Wiltshire, England, Bourne began playing trombone at the age of nine, took up the cello at 13, and two years after that taught himself to play piano, assimilating the music of Claude Debussy, Maurice Ravel, and
George Gershwin
. Rapid progress on cello and piano led to the abandonment of the trombone. All of this occurred while he was attending primary and secondary schools, and by 1995, he was an accomplished musician. In that same year, Bourne began taking an interest in jazz. Also in 1995, he raised £1,500 for the Hawksley Romania Trust by improvising at the piano for 24 hours. In 1996, he bought a Fender Rhodes electric piano and began studying at the Leeds College of Music. During the next few years at Leeds, Bourne began to develop a passion for British jazz of the '70s and in particular musicians such as
John Surman
, Mike Osborne,
Evan Parker
, and Mike Westbrook, all of whom continued to be constant sources of inspiration. Concurrently, Bourne began to conform less and less to the mainstream approach to jazz and explored instead the world of contemporary composition and the avant garde. During this same period, he was also plagued by severe attacks of tendonitis, something that had first appeared in the aftermath of his 24-hour charity marathon. He became involved in the college's contemporary music ensemble, playing
John Cage
, Morton Feldman, and
Louis Andriessen
, and was soloist in Michael Daugherty's piano concerto Tombeau de Liberace and
Cage
's Concerto for Prepared Piano and Orchestra.
After graduating in 2001 with a first-class degree, Bourne continued to study for a PhD in Performance at Leeds University, which he attained in 2004. In 2001, he won the Young Jazz Musician category of the Perrier Awards. Other winners included singer Niki King and the Chris Hutchings Quartet, and they all shared a resulting album. The following year, he won the BBC Jazz Award for Innovation. Bourne formed an ensemble called the Electric Dr M with guitarist Chris Sharkey, bassist Riaan Vosloo, and drummers Dave Black and Sam Hobbs; their self-titled album appeared on Sound Recordings in 2003. In 2005, Bourne won the International Jazz Award from the International Jazz Festivals Organisation. His debut solo album The Molde Concert (recorded live in Molde, Norway in 2005) was released by Foghorn Records in 2008, and was met with acclaim. That same year, he released albums with Trio Grande (Un Matin Plein de Promesses) and Dave Stapleton (Dismantling The Waterfall: The Mill Sessions, Vol. 1). He also formed Bourne Davis Kane with bassist Dave Kane and drummer Steve Davis, and the trio released their debut album Lost Something on Edition Records that year. In 2009, he collaborated with Vigroux, who released the duo's Call Me Madame (Good News from Wonderland) on his D'Autres Cordes label. Moment to Moment, a Bourne Davis Kane album with saxophonist
Paul Dunmall
, appeared on Slam Productions that year, followed by the trio's The Money Notes on Foghorn Records in 2010.
Bourne released collaborations with Trio Grande (Hold the Line!) and Tony Bevan, Tony Buck, and
Barre Phillips
(Everybody Else But Me) in 2011. The following year, Leaf released Bourne's debut studio solo full-length Montauk Variations. The release was praised for its serenity and grace, and lead to collaborations with
Amon Tobin
and
Nancy Elizabeth
, both of whom were fans of the album. Chansons D'amour, Bourne's collaboration with Laurent Dehors, also appeared that year. Bourne collaborated with Vosloo and drummer Tim Giles under the name Impermanence Trio, and their split LP with Tricko Tareco appeared on Impossible Ark Records in early 2013. //Bourne/Berridge/Bourne//, a collaboration between Bourne and
Broadway Project
, was digitally released by ODS Recordings in 2014. Bourne Davis Kane's Broken Light was issued in late 2015, as was Mandalas in the Sky, the trio's second album with Dunmall. Also in 2015, Bourne collaborated with Vigroux and installation artist Antoine Schmitt on a series of audio-visual events titled Radioland, which paid tribute to
Kraftwerk
's 1975 classic Radio-Aktivität in celebration of its 40th anniversary. Leaf issued Radioland: Radio-Activity Revisited in early 2016. Soon after, the label also released Bourne's solo album Moogmemory, recorded entirely on the Lintronics Advanced Memorymoog synthesizer. ~ Rovi Staff & Paul Simpson
full bio
Selected Discography
Similar Artists
Don't have a Pandora account? Sign up
Already have a Pandora account? Log In