We created Pandora to put the Music Genome Project directly in your hands
It's a new kind of radio –
stations that play only music you like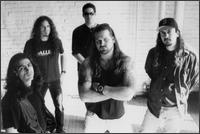 People who also like this
Comparable to
Metallica
,
Anthrax
,
Megadeth
,
Exodus
and early
Testament
, Meliah Rage is among the thrash metal/speed metal bands that came along in the mid-'80s. Meliah Rage isn't as well-known as those bands; nonetheless, the Boston-based outfit has enjoyed a small, enthusiastic cult following since the Ronald Reagan years. Meliah Rage was formed by guitarist Anthony Nichols in 1985; that year, Nichols (who briefly played with the Beantown punk band
Gang Green
) joined forces with lead singer Mike Munro, guitarist Jim Koury, drummer Stu Dowie and bassist Jesse Johnson (not to be confused with the Midwestern singer/guitarist who played with
the Time
and was part of
Prince
's Minneapolis funk rock empire in the '80s). Meliah Rage (whose name was inspired the Meliah Indian tribe's practice of taking opium before going into battle) had been creating a buzz on the Boston scene for three years when, in 1988, they landed a deal with Epic Records, which released their debut album,
Kill to Survive
, that year. Meliah Rage's first studio album was followed by
Live Kill
(a live EP) in 1989 and the band's second full-length studio album,
Solitary Solitude
, in 1990.
Solitary Solitude
turned out to be Meliah Rage's last Epic release; in 1992, they left the Sony-owned label. It was also in 1992 that Meliah Rage went through some lineup changes. When Jesse Johnson and Stu Dowie left the band, two newcomers were hired: bassist Keith Vogele and drummer
Sully Erna
, who spent 18 months in Meliah Rage before going on to become the lead singer of the well-known, Boston-based alternative metal band
Godsmack
. During Meliah Rage's
Erna
/Vogele period, the band recorded a demo titled Unfinished Business and shopped it to various labels. But major labels seemed unreceptive to the demo; in 1992 and 1993, grunge was king, and A&R people were busy looking for the next
Nirvana
or the next
Pearl Jam
. Major labels seemed to feel that Meliah Rage wasn't alternative enough, although punk-influenced thrash metal and speed metal bands have generally fared much better in a post-
Nevermind
climate than pop-metal and hair metal bands. Around 1994, some Meliah Rage members pursued side projects, but none of them worked out -- and in 1995 (after Vogele and
Erna
had left), yet another Meliah Rage lineup was formed. This time, Bob Mayo (formerly of Wargasm) was on bass and Dave Barcos was on drums. After 1996's Death Valley Dream, Meliah Rage broke up. But eight years later, Meliah Rage reunited with a new 2004 lineup that united three original members -- Nichols, Koury and Johnson -- with drummer Barry Spillberg (another ex-member of Wargasm) and new lead singer Paul Souza. Nichols had expressed interest in working with original lead singer Mike Munro again, but Munro declined the offer in order to spend more time with his family -- and Souza ended up getting the gig. With that new lineup in place, Meliah Rage recorded their first album in eight years, Barely Human, which was released on Screaming Ferret Records in August 2004. ~ Alex Henderson, Rovi
full bio
Similar Artists