Free personalized radio that
plays the music you love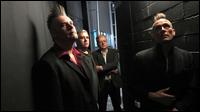 People who also like this
Post-punk noise merchants the Membranes were one of the most powerful and polarizing British bands of the '80s and '90s. Their music was deliberately abrasive and forceful, full of jagged shards of guitar, deep slabs of bass, and crashing drums with a soupçon of electronic noise laid over the top as the group barked out lyrics about the chaotic state of the world around them.
The first edition of the band was formed in Blackpool, Lancashire, England in 1979 by John Robb after an unsatisfying series of experiments making music with makeshift instruments and tape recorders convinced him he needed worthy collaborators. Recruiting guitarist Mark Tilton, who showed up with a guitar rescued from a junk shop, Robb volunteered to play bass, and they chose to name their new band the Membranes, while also launching a music magazine called
Rox
. The first lineup was complete with the addition of drummer Martin Kelly and vocalist Martin Critchley, but Critchley didn't last long in the group, and Robb and Tilton took over as singers, while Kelly moved over to keyboards and a guy known as Cooft Sid (all of 13 years old at the time) became the new drummer. The Membranes made their recorded debut on a compilation coordinated by
Rox Magazine
, 1979's Blackpool Rox, and in 1980, they issued a flexidisc EP, Flexible Membranes. 1982 saw the release of their first proper vinyl single, "Muscles," which fared well in clubs and won the endorsement of the iconic BBC disc jockey John Peel, who played it on his show. That same year, Kelly left the band, and the Membranes opted to add a new guitarist, Steve Farmery, rather than another keyboardist. The independent label Rondolet Records signed the Membranes and released the Pin Stripe Hype EP, but Rondolet soon went bust, and the band jumped ship to Criminal Damage, who issued their album Crack House in 1983, and the single "Spike Milligan's Tape Recorder" the following year. By this time, Farmery was already out of the Membranes, and the band's sound was becoming even darker and more intense, anticipating the first shadows of the growing industrial movement.
In 1985, the Membranes' Death to Trad Rock EP became an underground hit, rising to number eight on the U.K. independent music charts, and the group was signed to Creation for their next album, The Gift of Life. The set was recorded after Tilton parted ways with the Membranes, with Robb moving to guitar and Stan Batcow signing on to play bass. In 1986, a disagreement between the Membranes and Creation founder Alan McGee led to the band leaving Creation and signing with In Tape, founded by Marc Riley; the same year saw Batcow gone from the Membranes, and Wallas Terror coming on board. In Tape released Songs of Love & Fury, produced by
Jon Langford
of
the Mekons
(who had guested on The Gift of Life); it was a chart success in the U.K., and became the band's first proper American release via Homestead Records. In 1988, guitarists Nick Brown and Keith Curtis joined the lineup and the Membranes recorded the album Kiss A**, Godhead, with noted fan Steve Albini engineering the sessions. 1989 saw the release of the album To Slay the Rock Pig; the band was vocally unhappy with the results, and in 1990, the Membranes split up, releasing the compilation Wrong Place at the Wrong Time in 1993. (Another career summary, The Best of the Membranes, appeared in 1999.)
In 2009,
My Bloody Valentine
curated that year's All Tomorrow's Parties music festival, and they invited the Membranes to reunite for the occasion. The new lineup of the Membranes featured John Robb, Nick Brown, and Keith Curtis, with Peter Byrchmore and Rob Haynes from Robb's post-Membranes band
Goldblade
filling out the group. After their first successful ATP appearance, they appeared at the festival again at the request of Steve Albini and
Shellac
, and the band played standalone shows in the U.K. and Istanbul. The Membranes released a new EP, There's No Place Like Home, in 2009, and in 2015, the group issued their first studio album since 1989, Dark Matter/Dark Energy, with a lineup comprised of Robb, Brown, Byrchmore, and Haynes. ~ Mark Deming, Rovi
full bio
Selected Discography
x
Track List:
The Universe Explodes Into A Billion Photons Of Pure White Light (Estonian Version)
Similar Artists
Don't have a Pandora account? Sign up
Already have a Pandora account? Log In