Free personalized radio that
plays the music you love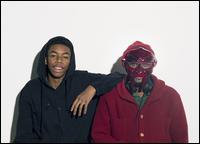 People who also like this
Patterning his persona and logo after the Marvel Comics super villain Dr. Doom, the man behind MF (Metal Face) Doom's iron mask is actually Daniel Dumile, aka Zevlove X, a member of former Big Apple hip-hoppers
K.M.D.
First featured on the
3rd Bass
single "The Gas Face," the London-born, Long Island-raised Zev made his debut with
K.M.D.
a couple of years later, along with his younger brother and musical partner, DJ Sub-Roc. The 1991 album Mr. Hood, released on Elektra Records, was part of a short-lived trend of Islamic Five Percent Nation hip-hop outings, along with efforts by groups like
Poor Righteous Teachers
and
K.M.D.
's labelmates
Brand Nubian
. However, Sub-Roc was fatally injured in 1993 when he was struck by a car, and when Zev and
K.M.D.
returned the next year, it was with the even more serious and militant Bl_ck B_st_rds, an album whose cover art alone (featuring a Little Black Sambo-ish cartoon character being hanged) spelled the end of the group's contract with Elektra.
With the album in limbo, Zev went underground for five years, "recovering from his wounds" and swearing revenge "against the industry that so badly deformed him," according to his official bio, a reworking of Dr. Doom's origin. Meanwhile, Bl_ck B_st_rds was heavily bootlegged and Zev Love's legend grew, but few knew at first that the rapper who began showing up at the Nuyorican Poets Café in 1998, freestyling with a stocking covering his face, was actually Zev. The imaginative MC finally ended the mystery in 1999, resurfacing in his new identity as MF Doom and making up for lost time with a critically praised new album, Operation: Doomsday, on the indie label Fondle 'Em Records. The following year saw the long-awaited official release of Bl_ck B_st_rds (complete with Sambo-style cover art), as well as several singles and an EP with fellow rhymer
MF Grimm
. In 2001, SubVerse re-released Operation: Doomsday and Bl_ck B_st_rds.
A wealth of bootlegs, compilation appearances, mixtapes, and instrumental albums (the beloved-by-DJs Special Herbs series) surfaced over the years, but no follow-up full-length arrived until Doom introduced his alter ego, Viktor Vaughan, in 2003 with Vaudeville Villain. His team-up with the multi-talented
Madlib
became
Madvillain
and their April 2004 release, Madvillainy, drew rave reviews. Four months later, Venomous Villain marked the return of Viktor Vaughan with the second MF Doom album, MM...Food?, appearing in November the same year. The formerly promo-only Live from Planet X got its aboveground release in March of 2005, with Special Herbs, Vols. 9-10 following in July. Before issuing his next full-length album, 2009's Born Like This, the rapper shortened his pseudonym to DOOM and collaborated with Ghostface and
Raekwon
, both of whom appeared on the album. By the end of the year he released Unexpected Guests, a compilation focusing on his guest features that appeared elsewhere. The live album Expektoration followed in 2010. ~ Dan LeRoy, Rovi
full bio
Selected Discography
Similar Artists
Don't have a Pandora account? Sign up
Already have a Pandora account? Log In