Free personalized radio that
plays the music you love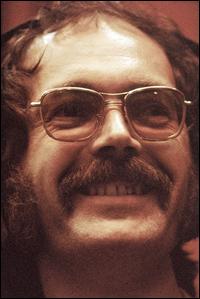 People who also like this
Influential British guitarist Mike Cooper is primarily regarded as a folk-blues guitarist and singer/songwriter, though his wide range of work cannot be so easily defined. He is also a celebrated improviser and electronic musician. In addition, he creates sound installations and radio art; he's a videographer, journalist, and music historian; and he performs scores for silent films.
Cooper was born in Reading, England in 1942. He began playing guitar at the age of 16. Initially inspired by New Orleans and Dixieland jazz, he played in skiffle groups during the late '50s. His life changed drastically in 1961 when he saw Sonny Terry & Brownie McGhee at Reading's town hall and later witnessed
James Cotton
playing with
Chris Barber
at a local music festival. Naturally, he began to play harmonica as well as guitar.
Cooper co-founded the band the Blues Committee, an R&B group based on the heady example set by
Alexis Korner
. Simultaneously, he was playing folk-blues as a solo artist in folk clubs. His first formal recording date was an independently released four-track EP with guitarist Derek Hall, Out of the Shades, titled for an important Reading folk club. Other peers who played the venue included
John Renbourn
,
Bert Jansch
,
Al Stewart
, and
Davy Graham
. Cooper began opening for a host of traveling American bluesmen as well as British stars of the era. He met fellow folk-blues musician Ian A. Anderson in 1967. Between them, the pair recorded three four-track EPs for the SayDisc label. They released a full album of these tracks as well as new pieces entitled The Inverted World. Though assembled in early 1968, it wasn't released until 1970. His playing had developed exponentially, incorporating a wide variety of Delta and country styles in his technique. He also employed bottleneck slide and lap steel. Cooper traveled England and met many other British musicians, including
Michael Chapman
,
John Martyn
,
Ralph McTell
, and
Roy Harper
, and wandering American players such as
Stefan Grossman
,
Dave Van Ronk
, and "Spider" John Koerner.
With a burgeoning national reputation, he was signed to Pye Records in 1969, and that year recorded Oh Really!?, the first of five influential recordings for the label and its imprints Dawn and Fresh Air. It was released in November. Interestingly, while there were still solid audiences for folk-blues, Cooper and many of his peers had moved on and broadened their own horizons without forsaking the roots music that had nourished them. His 1970 offering, Do I Know You?, appeared on Dawn in 1970, and remains unique for its use of field recordings and the jazz bass playing of South African expat Harry Miller. That experience opened Cooper up to an entire range of ideas about improvisation, which were put to use first on Trout Steel, one of his most enduring and influential recordings. Recorded and released in 1970, the other personnel included Miller,
Grossman
, and a host of players from Mike Westbrook's band. Pianist
John Taylor
also contributed to a track. Cooper's jazz explorations didn't mean he gave up blues entirely; he simply moved mercurially between the lines of genres and often combined them.
His third effort for Pye/Dawn was to have been a double album entitled Places I Know. The idea was that one recording would feature his folk side and the other his improv jazz-rock side. Dawn issued it as a single album in 1971 credited to Mike Cooper & the Machine Gun Co. (so-called after Peter Brötzmann's group) plus
Michael Gibbs
. The second album, released as The Machine Gun Company with Mike Cooper, didn't appear until a year and a half later. His final recording for the label group, this time under the Fresh Air imprint, was Life & Death in Paradise, issued in 1974. This date featured another South African expatriate, Louis Moholo, on drums. Other than the live Country Blues Guitar Festival as part of an offering that featured Cooper,
Grossman
,
Son House
, and Sam Mitchell, it was his final recording of that decade. Cooper was busy, though, playing live, improvising in bands, collaborating with other artists, and touring Europe. His 'Ave They Started Yet is a live album compiled from a continuous four-and-a-half-hour performance with dancer Joanna Pyne; it was released by Matchless in 1981, and was indicative of the entire period, which found him alternating between country blues records and more vanguard jazz recordings, including the sets Johnny Rondo Duo Plus Mike Cooper, which placed him in the free jazz company of Lol Coxhill and
Dave Holland
, and The Continuous Preaching Blues with Anderson. The most important recording from the era was the 1987 10" LP Aveklei Uptowns Hawaiians, with French slide guitarist Cyrille Lefebvre. Their sidemen for the session included Coxhill,
Steve Beresford
, and
Max Eastley
. It showcased Cooper's growing obsession with Polynesian music, which would inform his playing for decades to come and be chronicled in his writing, particularly about the many slack key guitar styles.
In the '90s, Cooper delved deeply into Hawaiian music. Avant Roots, a duo album with Viv Dogan Corringham, was issued in 1993, followed by the large-group effort Island Songs in 1996. The integration of Polynesian sounds, blues, and avant music put Cooper in a league of his own. It culminated in a genre he called ambient electronic exotica -- displayed by the acclaimed Rayon Hula released in 2004 -- which musically translated the patterned flora of aloha shirts (his signature garment) into looped samples of famed Hawaiian vibraphone player
Arthur Lyman
for a lively avant form of exotica -- and on subsequent recordings, like the large-band Beach Crossings/Pacific Footprints in 2006 and Oceanic Feeling-Like in 2008 with
Chris Abrahams
.
His radio sound art was showcased on 2011's limited-edition Radio Paradise: Mike Cooper in Beirut and 2013's CD-R release Right (H)ear Side by Side, which put his electronics and slide guitar work in juxtaposition to Yan-Chiu Leung's traditional sheng playing. The same year, White Shadows in the South Seas (on
Lawrence English
's Room40 label) brought a completely solo take on his ambient electronic exotica, followed by the global and electronic experimentalism of New Globe Notes in 2014 (with liner notes by
David Toop
). In June, Paradise of Bachelors issued deluxe, remastered -- and the only artist-sanctioned -- versions of Trout Steel and the recombined Places I Know/The Machine Gun Co. as originally intended. They were followed a week later by Cantos de Lisboa, a duet recording between Cooper and guitarist
Steve Gunn
cut in Lisbon at
Rafael Toral
's studio. It appeared on RVNG Intl as part of its Frkwys series. In 2015, Italian label Backwards issued Light on a Wall, a limited LP release of a live session Cooper recorded for Radio Beirut in Lebanon. He returned to Room40 that year with Fratello Mare, another album of experimental exotica. ~ Thom Jurek
full bio
Similar Artists
Don't have a Pandora account? Sign up
Already have a Pandora account? Log In