We created Pandora to put the Music Genome Project directly in your hands
It's a new kind of radio –
stations that play only music you like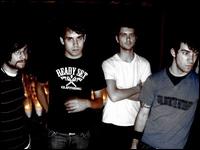 People who also like this
Combining elements of post-hardcore and rock, the Modern Day Saint first got together in the summer of 2003 in western Massachusetts. Two weeks of selling CDs on the Warped Tour soon earned the guys -- vocalist Daniel Lang-Gunn, guitarists Adam DiMuzio and Joe Urban, bassist Chad Jewett, and drummer Matt Dufresne -- enough money to record some of their own demos. They laid down three tracks, which became the first half of a split EP with fellow locals Sonny. That split, Tennessee Isn't Too Far Away, was issued on Boston-based Fork in Hand, and the Saint toured the country three times over in support; the EP eventually sold over 5,000 copies based on live sales alone. With the money made touring, the guys hit the studio to record their debut full-length,
...And Tomorrow We Will Have Nothing
, in early 2004. Hopping back on the road after its completion, they finished a two-month summer tour before Jewett and Dufresne exited. Despite the setback, the remaining members pushed on with replacements.
However, on-stage during a gig on November 19, 2004, Lang-Gunn collapsed from a cardiac arrhythmia. Suffering anoxic brain damage, the 19-year-old was admitted to a medical rehab facility for extensive physical, occupational, and speech therapy to recover from his injury. Devastated, the rest of the group decided to call it quits. A year later, however, Urban and DiMuzio decided they owed it to their friend to finish what they had begun together. Regrouping, the duo was rounded out by bassist Chris Simpson and drummer Ali Vahadji, with vocals being taken over by DiMuzio. The Modern Day Saint hooked up with Eyeball Records, who finally released Tomorrow in August 2006, a portion of the proceeds going to Lang-Gunn's family. ~ Corey Apar, Rovi
full bio
Selected Discography
Similar Artists