Free personalized radio that
plays the music you love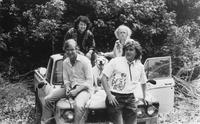 People who also like this
One of the more obscure bands that was part of the original '60s British Invasion movement, the Montanas are known primarily for their lone hit, "You've Got to Be Loved." The group originated in Birmingham in 1964 -- Bill Hayward, who'd previously played in other local bands like
the Crossfires
and the Connoisseurs, was the lead guitarist, Graham Crewe was the original drummer, and Ralph Oakley was the bassist, with John Jones as lead singer. The group had a very theatrical presentation, which included bits of comedy between the songs. The Montanas were managed by Roger Allen, who was able to get them a contract with Pye Records, which brought them under the wing of songwriters
Tony Hatch
and
Jackie Trent
. At the time, this probably seemed like a good move, and it was, as
Hatch
and
Trent
also wrote hits for
Petula Clark
(
Hatch
also produced
Clark
and
the Searchers
), who was a regular occupant of the top of the pop charts. The group also received a major boost in their musical resources in 1966 when Terry Rowley, the lead guitarist with the Mountain Kings, joined the Montanas. Rowley switched to keyboards in his new berth, but he was also a first-rate arranger and composer, and played a role within the Montanas similar to the one played by Paul Samwell-Smith in
the Yardbirds
.
They had three songs, "Ciao Baby," "You've Got to Be Loved," and "Let's Get a Little Sentimental," that were favorites among reviewers, and got very heavy radio play, all without scoring any major chart action in England. Somehow, however, "You've Got to Be Loved" managed to make the American Top 50 -- but they lacked the resources to come to the United States to promote the record, and watched as it rose and fell from the sales listings, all under its own power. Jake Elcock, formerly of the Strangers and Finders Keepers, joined on bass in 1967 along with Graham Hollis on drums that same year. Everyone who ever saw the Montanas perform live respected and admired them as one of the top bands in Birmingham; they were first-rate musicians and had a powerful sound playing live, and were deserving of a break and a hit. But even members of the band later conceded that for all of their musical excellence, the Montanas had some inherent flaws in their lineup and their music. Their reliance on outside songwriters, which had been a mere detail (and typical of many first-rate bands, including
the Searchers
) in 1965, had become a liability by 1967, and their records, for all of their excellence, didn't reflect the group's actual sound, which was a lot less pop-oriented than their singles would have led one to believe. By 1968, they were in a bind similar to the one faced by
the Tremeloes
, a somewhat similar pop/rock band with a much more substantial body of hits to its credit.
In 1968, Rowley and Jones left the group to join a band called Finders Keepers, which soon after became
Trapeze
. Ian Lees (known as "Sludge") and George Davies came into the lineup in time for "Let's Get a Little Sentimental" -- although Lees played bass, he was best known for providing the comedy between their songs. Rowley and Jones only lasted as members of
Trapeze
for the latter group's first album, and returned to the Montanas in 1970. The group lasted with this latter-day lineup through the mid-'70s, finally disbanding in 1978. The group's recording had disappeared with the advent of the CD era, but a 26-track compilation of their best work (sharing the same title as their aforementioned hit single) was released in 1998. Lees went on to become a top comedian in the Midlands, while Elcock went into talent management. ~ Bruce Eder & Greg Prato
full bio
Selected Discography
Similar Artists
Don't have a Pandora account? Sign up
Already have a Pandora account? Log In