Free personalized radio that
plays the music you love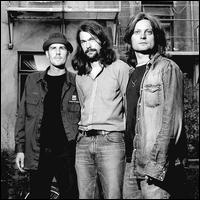 People who also like this
Named for a movie by American sexploitation auteur Russ Meyer, Motorpsycho are a Norwegian band whose music is an adventurous fusion of progressive rock, psychedelia, alternative rock, folk-rock, hard rock, and old-school heavy metal. Motorpsycho were formed in Trondheim, Norway in the fall of 1989 by guitarist Hans Magnus "Snah" Ryan, bassist Bent Saether, and drummer Kjell Runar "Killer" Jenssen, who all knew one another from playing the regional club circuit with various bands. After cutting a demo in 1990 (which was released under the title Maiden Voyage) and releasing their debut LP, Lobotomizer, in 1991, Jenssen left the band and Håkon Gebhardt, a high-school friend of Ryan's, took over behind the drums.
After a handful of EPs and vinyl-only releases, the new Motorpsycho lineup added a fourth member, Helge Sten on keyboards and electronics, and they cut the grand-scale 1993 double album Demon Box, which earned enthusiastic reviews while expanding the group's following. The band stayed busy in the studio, releasing a pair of EPs in late 1993 and early 1994, leading up to Timothy's Monster, an expansive work spread out over two discs on CD and three LPs on vinyl. After the release of Timothy's Monster, Sten dropped out of Motorpsycho as a full-time bandmember, though he continued to work with the group in the studio and appeared at their live shows as his schedule permitted; guitarist Morten Fagervik and keyboardist Lars Lien came aboard in his place.
In 1995, the group released The Tussler, the original soundtrack album to a movie that existed only in Motorpsycho's imagination, and despite a busy touring schedule, they returned with another album, Blissard, in 1996. By the time Angels and Daemons at Play was released in 1997, Fagervik and Lien had dropped out of the group, and the core trio of Ryan, Saether, and Gebhardt soldiered on, releasing their next studio effort, Trust Us, in 1998, and the first in their series of Roadwork albums (collecting live recordings from the group's archives) in 1999.
In the 21st century, Motorpsycho kept up a hectic recording and performing schedule, releasing four studio albums, another Roadwork volume, and a collaborative EP with
Jaga Jazzist Horns
between 2000 and 2003; during this period, elements of jazz and electronic music also began playing a larger role in their music. In 2005, Gebhardt left Motorpsycho, and the 2007 album Black Hole/Blank Canvas found Ryan and Saether recording as a duo with guest percussionist Jacco van Rooij and vibraphonist Oyvind Brandtsegg. Released in 2008, Little Lucid Moments marked the recording debut of Motorpsycho's new full-time drummer, Kenneth Kapstad, and in 2009 the band celebrated its 20th anniversary with a vinyl-only album, Child of the Future, recorded with engineer Steve Albini. Another studio set, Heavy Metal Fruit, was released in 2010 and the fourth Roadwork collection followed in 2011.
In 2012, Motorpsycho collaborated with keyboardist/composer/arranger Ståle Storløkken (
Supersilent
,
Elephant9
, Humcrush,
Terje Rypdal
) and the Trondheim Jazz Orchestra. They released a re-imagined studio version of the 2011 concert work The Death Defying Unicorn, which was commissioned by the Molde International Jazz Festival for their 50th anniversary. They returned with the genre-defying Still Life with Eggplant in 2013, and followed it with the sprawling Behind the Sun in March of 2014. Later that spring the band announced The Motorpnakotic Fragments, an extremely limited-edition (1,200) album created from four 7" vinyl singles; also included was a disc of the entire album. It was shipped throughout the fall of 2014.
Motorpsycho kicked off 2015 with a deluxe five-disc reissue of their 1993 album Demon Box. Originally recorded as a double, it was trimmed and released as a single album. The set restored the entire recording in proper sequence, was fully remastered, and contained bonus EPs, rarities, and a concert video disc. It was followed by a live acoustic vinyl offering entitled En Konsert For Folk Flest. Also that year, Rockheim, the Norwegian national museum of rock, displayed a 25-year retrospective exhibition of the band called Supersonic Scientists. For the first time in their career, Motorpsycho assembled a retrospective collection; entitled Supersonic Scientists: A Young Person's Guide to Motorpsycho; it featured one track each from their "regular" studio album catalog outside of soundtracks, live recordings, collaborations, or special projects. It was followed in February by the brand new single,a cover of HP Lovecraft's cover of Terry Callier's "Spin Spin Spin." The full length Here Be Monsters was released a month later. The album's origins lie in a commission for the centennial jubilee of the Norwegian Technical Museum in November, 2014. The music was written for the expanded version of Motorpsycho that features Storløkken, though he did not participate in the recording sessions due to time constraints. ~ Mark Deming
full bio
Selected Discography
Similar Artists
Don't have a Pandora account? Sign up
Already have a Pandora account? Log In