We created Pandora to put the Music Genome Project directly in your hands
It's a new kind of radio –
stations that play only music you like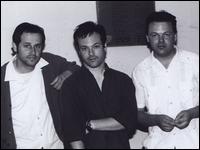 People who also like this
The Mr. T Experience came out of the same Berkeley/East Bay Gilman Street punk rock scene that eventually spawned
Green Day
, but they are often left out of the history of this scene, or at least they rarely fit prominently into the punk rock genealogy. The Mr. T Experience (or MTX for short) played the same
Ramones
/
Buzzcocks
/
Descendents
-inspired punk-pop for years without gaining any of the commercial success of Gilman Street peers
Green Day
and
Rancid
. Perhaps this is a result of the perception that MTX is a generic purveyor of a style that has been played multiple times by multiple bands that preceded them, but this is an unfair judgment. MTX breathe fresh life into punk-pop with their goofy pop culture references and catchy melodies. Sure, they're not that original, but some of the best bands in the world have been totally derivative.
Singer/songwriter/guitarist Dr. Frank (aka Frank Portman) is the only original member of the group, formed in the mid-'80s, leading him to jokingly refer to his group as MTX "Starship." After releasing two albums on obscure labels, MTX signed to Lookout! (the original home of
Green Day
), where they remained for years. After recording 1992's
Milk Milk Lemonade
, the group broke up, only to regroup the following year to record the Gun Crazy EP and
Our Bodies Our Selves
LP. After this brief period of activity, they broke up again and then re-formed as a trio, recording the ...And the Women Who Love Them EP and two excellent bubblegum-punk albums,
Love Is Dead
and Revenge Is Sweet, and So Are You.
Alcatraz
followed in 1999 and the
Miracle of Shame
EP was issued a year later. Early 2004 then brought the release of Yesterday Rules. Outside of MTX, Dr. Frank issued a solo album in 1999 through Lookout! entitled Show Business Is My Life and also published his first novel, King Dork, in spring 2006 to rave reviews. ~ Kembrew McLeod, Rovi
full bio
Selected Discography
Similar Artists