We created Pandora to put the Music Genome Project directly in your hands
It's a new kind of radio –
stations that play only music you like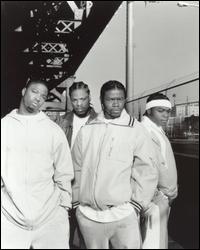 People who also like this
Formerly known as Task Force, the NAAM Brigade was a hardcore rap outfit that came out of Philadelphia in the '90s. NAAM has several full-time members, including Sonni Blak, Eyse da SupaStar, Rambo, and Meek Millz; but like New Jersey's
Wu-Tang Clan
, NAAM has had an extended family of MCs and allies. In fact, there are some parallels between NAAM's thugged-out rhymes and comparable East Coast outfits like
Wu-Tang
and Queens, NY's
Mobb Deep
. But NAAM tends to be more dark-humored, and unlike
Wu-Tang
, it doesn't get into martial arts imagery.
The members of NAAM grew up in a rough, impoverished ghetto neighborhood of Southwest Philly, where they formed a clique and often engaged in microphone battles with rival MCs. Not all sections of Southwest Philly are dangerous high-crime areas, but where NAAM's members lived, poverty, drugs, and violent crime were harsh realities. In those days -- when NAAM was still going by Task Force -- the outfit's core members were Sonni, Eyse, Rambo, and the late Q-Don, although there were plenty of neighborhood rappers who were down with their clique and helped them battle on the microphone. After selling mix tapes in their neighborhood for a few years, the crew signed with Elektra in 1998 as Task Force. But just when the hip-hoppers thought they were on the verge of national success, they hit a major bump in the road.
When an altercation broke out in a Philly nightclub, Q-Don was killed by a stray bullet that was meant for someone else; he was in the wrong place at the wrong time. So the Philadelphians parted company with Elektra and briefly took a break from music. But the former Task Force soon reemerged as the NAAM Brigade with a new lineup that included Sonni, Eyse, Rambo, and newcomer Meek Millz (whose name is rather ironic because NAAM's odes to inner-city thug life are anything but meek). As NAAM, the group recorded a new mix tape titled NAAM Brigade Mixtape, Vol. 2, which is said to have sold about 20,000 copies in Philly. One of the tunes caught the attention of Power 99 FM (a major urban contemporary station in Philly) and became the theme of a popular mix show. NAAM Brigade Mixtape, Vol. 2 also caught the attention of the Los Angeles-based ARTISTdirect Records, which signed the rappers in the early 2000s.
Early in the Game
, NAAM's debut album, was given an August 2002 release date. The album's title track, which features
Jay-Z
protégé
Freeway
, was released as its first single. ~ Alex Henderson, Rovi
full bio
Selected Discography
Similar Artists