Free personalized radio that
plays the music you love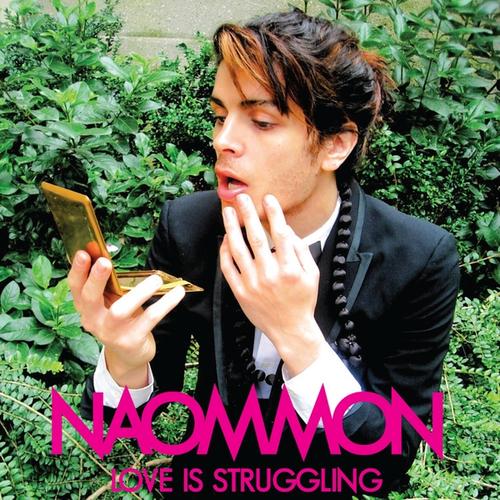 People who also like this
Naommon, the French singer intent on bringing back the glory days of disco music, was born in Toulon, a small town not far from the French Riviera. "Everybody knew everybody," the singer says. "It was a good place if you only wanted to go to the beach, but not a place for anyone who wanted to pursue an artistic future." As soon as he was out of high school he moved to Toulouse, a town with a bohemian character that matched his own. He got his musical education singing with funk and rock bands and hanging out with musicians at recording studios. He caused a sensation in France when he became a contestant on the reality TV show Popstars. The French audiences aren't as polite as the fans on American Idol. They heckle and shout at the contestants trying to put them off their game, and contestants have to sing every song a cappella. Naommon delivered
Aretha Franklin
's "Think" dressed up in a leather skirt and florescent jacket. He was one of the more unusual contestants on the show, and the press played up his flamboyant style. "I'm not a gay artist," he said in a 2007 interview. "I'm an artist that happens to be gay, but I think everyone can relate to my music. I'm obsessed with freedom and going all the way. That's what I project in my lyrics, my style, and my attitude. I want people to be emancipated in every way, shape, and form."
French electronica producers Christophe Dallaca and Stéphane Deschezeaux, aka Kiko & Gino's, saw his performance on Popstars and invited him to collaborate with them. The trio caused a sensation with several massive underground European hits, including "I'm Not Ashamed," "Good Sluts Factory," "So Boyish," and "Jack the Box." They were all issued on
DJ Hell
's influential Berlin-based underground label International Deejay Gigolos, the ultimate cult label known for its cutting edge contributions to European dance music. Naommon had been dreaming about New York City since he was a boy; he finally made the move in 2007, although he still regularly commutes between apartments in Paris and New York. "I do my music with my mates in Europe," he told PlanetOut in 2007. "Still, there's no place like New York. It feels like home with its crazy energy and positive vibes and nightlife. It's tough but inspiring." With the good looks of a model, a dark charismatic presence, and a style that can see him performing in farmhand coveralls or designer jeans, Naommon is ready to make his mark on the Big Apple. "My style depends on my mood," Naommon says. "I'm a fashion freak and I'm obsessed with clothes. I like long hair, short hair, dyed hair. I always say I'm playing with myself like I'm a doll, maybe because I wasn't able to play with dolls when I was a boy. I'm interested in total emancipation and shredding the rules."
Naommon is also good at giving enticing soundbites: "My music is electro-purple-fluoro-plastic-sulky-acid-housey-soul-clashy-disco-sequin-pop" he says, with a smile both shy and sly. "I loved
Michael Jackson
,
Prince
, and '80s pop --
George Michael
,
Boy George
,
Duran Duran
. Then I heard
Deee-Lite
's World Clique and I never recovered. It was like a physical shock. That's what made me want to explore electro and club music. I still play that record every day and I never get tired of it. They were so modern, a blend of club culture, classic songwriting, Motown and
P-Funk
. In the '90s, Muriel Moreno and her band Niagara inspired me with their music, style, and innovative videos. I love Catherine Ringer from
Les Rita Mitsouko
, a crazy pop/rock/punk/jazz band. She's like
Nina Hagen
doing
Edith Piaf
. And the poetry and lyrics of
Serge Gainsbourg
. They all make music that had a physical effect on me; I absorbed and transformed it into my own style." After his success with the singles on International Deejay Gigolos, Naommon set about recording his first album, Allnighter. The project is self-financed and was released digitally. "My driving force is freedom. If you can put your own money into your project and build a buzz around it on your own, you have a chance to hit the mainstream. My idea is do your own thing yourself; don't wait for anybody. I want to rule the world on my own and be independent. There's a lot of panic in the music business today; the music all sounds the same. I want to be fearless and create a style that doesn't already exist."
Allnighter was recorded in France and produced by a bevy of notable French electro artists, including Dondolo,
Danton Eeprom
,
Copyshop
, and Julien Lenoir. "Thanks to the name I made with the singles, I was able to executive produce my album and do everything I wanted to do. The music is European, but the vibe is pure New York." The music combines the punishing pulse of classic disco and Chicago house; the jittery arrhythmic beats of new wave rock; a dash of hip-hop; a nod to the sexy posturing of early
Prince
; a bit of funk; a touch of glam; dark, almost industrial synthesizer accents; neo-soul backing vocals; and catchy pop melodies. His singing combines a diva's wailing excess with a rocker's ironic detachment. The songs are lascivious and energetic, mostly dealing with parties, sex, freedom, sex, and the difficulty of balancing true love and excess. The lyrics, Naommon says, are kept intentionally vague. "I like the poetry of words, French or English, especially if the sense isn't obvious. I like to be evocative. I like word mixtures that sound beautiful, even if they have no real meaning. I never had the patience to learn an instrument or how to be an engineer or producer, but I know how to collaborate with producers to get the kind of texture I want. I work from a visceral place and want to put that feeling into the music." ~ j. poet
full bio
Similar Artists
Don't have a Pandora account? Sign up
Already have a Pandora account? Log In