We created Pandora to put the Music Genome Project directly in your hands
It's a new kind of radio –
stations that play only music you like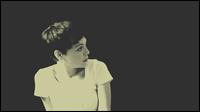 People who also like this
One of the more colorful and charismatic pop artists to emerge in Mexico during the early 2000s, Natalia Lafourcade debuted in 2003 with a fascinating solo effort before switching to a rock band format, Natalia y la Forquetina, and proved herself worthy of acclaim in whatever guise she chose. Born Natalia Lafourcade Silva on February 26, 1984, in Mexico City, she took an early interest in music, for her parents were musicians. She knew at an early age that she wanted to become an artist, and over the course of her childhood she studied accordingly: painting, theater, and music, including such instruments as flute, guitar, piano, and saxophone, as well as singing. Though she attended a Catholic middle school, Instituto Anglo Español, Lafourcade spent several years living with her mother in Coatepec, Veracruz, Mexico, where they both studied music. Some of her cited contemporary influences are
Fiona Apple
,
Björk
,
Café Tacuba
, and
Zuco 103
.
With time, Lafourcade was taken under the wing of Loris Ceroni, a well-regarded Italian producer perhaps best known for his work with
Alejandra Guzman
. Recording at Le Dune Estudios in Italy, he produced the bulk of what would later be released by Sony Norte as
Natalia Lafourcade
(2003), with the remainder of the album produced by Aureo Baqueiro back in Mexico. An eclectic, free-spirited album encompassing everything from gentle, bossa nova-style acoustic guitar to hard-hitting dance beats, often within the same song,
Natalia Lafourcade
is a fascinating album of pop confetti anchored by well-written songs and charismatic singing. It found a captive audience in Mexico, generating four hit singles ("En el 2000," "Busca un Problema," "Elefantes," "Te Quiero Dar"), topping the album chart, and going three-times platinum. Moreover, it wasn't only consumers that were captivated by the album, as Lafourcade earned four Latin Grammy nominations for her debut effort: Song of the Year ("En el 2000"), Best New Artist, Best Rock Solo Vocal Album, and Best Rock Song ("En el 2000"). She also earned a standard Grammy nomination for Best Latin Pop Album.
In 2004, the following year, Lafourcade assembled a four-piece rock band, Natalia y la Forquetina, also comprised of Alonso (drums, programming), Chanona (guitar, bass guitar), and
Yuno
(accordion, keyboards). Fernando Eimbcke, a filmmaker who had directed the video for "En el 2000," invited Lafourcade and her new band to record a song for the soundtrack to his film Temporada de Patos (2004). The song, "Un Pato," is a reinterpretation of a traditional bossa nova, "O Pato," and it marked the debut of Natalia y la Forquetina. Meanwhile, the band worked on a full-length album with producer Emmanuel del Real, aka Meme, from the band
Café Tacuba
, and also with Baqueiro once again.
The resulting album,
Casa
(2005), is indeed the product of a genuine rock band, with surging electric guitars driving many of the songs. Though considerably more one-dimensional than Lafourcade's self-titled debut, and not quite as successful,
Casa
nonetheless spun off some hits, topped the album chart, went platinum in Mexico, and won a Latin Grammy for Best Rock Album by a Duo or Group with Vocal. Furthermore, the band arrangement facilitated Lafourcade's emergence as a concert performer, and indeed, she took Natalia y la Forquetina on the road, touring extensively throughout Mexico over the course of a year's time. Their last show was August 18, 2006, after which point Lafourcade disbanded la Forquetina with plans to resume her solo career. ~ Jason Birchmeier, Rovi
full bio
Selected Discography
Similar Artists