Free personalized radio that
plays the music you love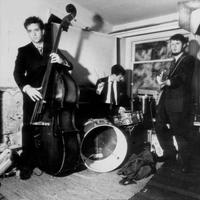 People who also like this
In January 1995 guitarist/vocalist
Arrington de Dionyso
was encouraged by the musicians that became Old Time Relijun to assemble a group to perform the compositions that he was writing. The group subsequently signed a recording contract with K Records and released two full-length CDs with the label. Between 1989 and 1995,
de Dionyso
recorded nine cassettes of homemade music on his four-track recorder, releasing each one on his own label, Pine Cone Alley. De Dionyso played the lion's share of the instruments on all of the cassettes, which he then gave to friends and sold through tape trade reviews. A buzz began to circulate in
de Dionyso
's hometown of Olympia, WA, during the early '90s about the releases, and he was encouraged by bassist Aaron Hartman and drummer Bryce Panic to put Old Time Relijun together to perform the music live. The group added percussionist Fezdak Water shortly thereafter, but then he left within a year due to artistic differences.
The remaining trio recorded Songbook, Vol. 1 in November 1996 and released it in April 1997 on Pine Cone Alley. K Records began distributing the CD, and the record received extensive critical praise. Following the release, the band was featured on various compilations throughout 1997, including Selector Dub Narcotic and Cha Cha Cabaret on K, KAOS Radio on Cottleston Pie Records, and Overboard on YoYo Records. While the band could be heard on those compilations that year, the group itself was inactive. Panic decided to stop performing music, sold his drums, and left for India to study meditation. De Dionyso decided to revive Old Time Relijun in 1998 without the aide of Panic or Hartman. Drummer Phil Elvrum joined the band and also began producing all of the group's material. Performing as a duo, Old Time Relijun proceeded to record the 1998 single Jail/Office Building.
Calvin Johnson
, owner of K Records, heard of the band's re-formation, as well as their new material, and encouraged them to release their new 7", as well as all subsequent recordings, on his label.
Hartman returned as the group's bassist in 1999, and the trio recorded Uterus and Fire, their first full-length record for K. The band followed that release with the 2000 album La Sirena de Pecera. As if they could tailor noise-rock just so, 2001's Witchcraft Rebellion did just that. Two years later, Varieties of Religious Experience was released. It was also the first recording credited to
Arrington de Dionyso and the Old Time Relijun
. Not slowing down,
de Dionyso
continued writing and recording while playing live shows throughout the year. The more artsy design of Lost Light arrived in spring 2004, while the futuristically named 2012 came out a year later -- both a part of the "The Lost Light Trilogy" that
de Dionyso
envisioned. The final installment of the trilogy, Catharsis in Crisis, was released in 2007, with new members Benjamin Hartman (saxophones) and Germaine Baca (drums). ~ Stephen Howell
full bio
Selected Discography
Similar Artists
Don't have a Pandora account? Sign up
Already have a Pandora account? Log In