We created Pandora to put the Music Genome Project directly in your hands
It's a new kind of radio –
stations that play only music you like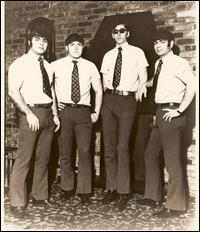 People who also like this
Led by guitarist and singer Oscar Hamod, Oscar & the Majestics were a garage rock band from Indiana who enjoyed impressive regional success in their heyday and recorded a handful of singles that have become the stuff of legend among collectors of mid-'60s rock. Oscar Hamod was born and raised in Gary, Indiana; his father was a music fan who ran a nightclub specializing in blues and R&B acts (
Muddy Waters
,
Jimmy Reed
, and
Albert King
all graced his stage at one time or another), and Hamod recalls his folks taking him to hear some of the great acts play when he was a kid. While Oscar's parents wanted him to take trumpet lessons like his older brother, he was more interested in the guitar, and Oscar taught himself to play an old acoustic using a Mel Bay instruction book. In 1960, Oscar formed the first edition of Oscar & the Majestics; Hamod sang lead and played lead guitar, while his younger brother Sam Hamod handled bass and backing vocals and for a while their older brother Bud Hamod sat in on drums. Before long, Bud dropped out of the band, and the definitive version of the band came together with the arrival of Robert Wheeler on rhythm guitar and Vince Jacim on drums.
Oscar was a tireless self-promoter, and the band was soon playing regularly throughout northwest Indiana and around Chicago; the group occasionally toured though Michigan, and in addition to playing nightclubs and teen centers, Oscar frequently booked and promoted his own dances. Oscar & the Majestics made their recorded debut in 1964 with "Jackie Jackie" b/w "Fanny Brown," an R&B-influenced single bankrolled by the band and released on Oscar's own Ark label. After several more self-released singles, Oscar & the Majestics signed with USA Records, a Chicago-based label that recorded a number of Chicago's leading garage rock acts of the day. Their first single for USA, "No Chance Baby" b/w "My Girl Is Waiting," found them maturing into a harder rock sound with Oscar showing impressive lead guitar skills (legend has it he used a cover over his fretboard on-stage so other players would have a harder time swiping his licks), and their 1966 cover of
the Who
's "I Can't Explain" boasted a fierce guitar sound that made
Pete Townshend
's original sound polite by comparison. ("My Girl Is Waiting" was recycled as its B side.)
While their third USA single was similarly impressive -- a powerful original "Got to Have Your Lovin'" backed with a raucous vocal version of
the Bar-Kays
' "Soul Finger" -- like their other releases it didn't generate more than a smattering of local interest on first release, and by 1968 the group was back to releasing its own records. While Oscar & the Majestics' recording career faded out at the end of the 1960s, the band continued to play in Chicago and northwest Indiana for many years to come, and in time the band's singles (especially the sides for USA) became prized items among record collectors. Oscar & the Majestics' five USA sides were included on 2131 South Michigan Avenue: 60's Garage and Psychedelia from USA and Destination Records, a 2009 collection released by Sundazed Records. The response to the Omar & the Majestics material was strong enough that in 2011 Sundazed issued
No Chance Baby!
, a 14-song collection that included all of the group's USA and independent singles in one package, along with two unreleased selections. ~ Mark Deming, Rovi
full bio
Selected Discography
Similar Artists