We created Pandora to put the Music Genome Project directly in your hands
It's a new kind of radio –
stations that play only music you like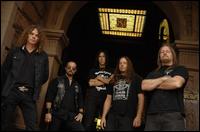 People who also like this
New Jersey thrash quartet Overkill were formed in 1980 by vocalist Bobby "Blitz" Ellsworth and guitarist Bobby Gustafson, and also included bassist D.D. Verni and drummer Rat Skates (later replaced by Sid Falck). The band garnered a reputation for brutal, pounding speed and technique, but lacked the musical diversity to compete with heavy hitters like
Metallica
; still, Overkill built up a strong following in the metal underground with albums like 1985's
Taking Over
and 1988's
Under the Influence
. Gustafson quit in 1989 following the
Years of Decay
album, and was replaced by Rob Cannavino and Merritt Gant. The band recorded its most effective and varied album,
Horrorscope
, in 1991; drummer Tim Mallare took over on 1993's
I Hear Black
. Overkill's final major-label release was 1994's
W.F.O
, after which the band moved to CMC International. With a new guitar team of Joe Comeau and Sebastian Marino, Overkill recorded albums like 1996's The Killing Kind, 1997's From the Underground and Below, and 1999's Necroshine. Also issued in 1999, Coverkill celebrated the band's influences with renditions of songs by
Black Sabbath
,
Jethro Tull
,
the Sex Pistols
, and others.
Overkill soldiered on into the year 2000 with
Bloodletting
and recorded the following tour for a live album, 2002's Live from Asbury Park. While on tour for their last two efforts, Ellsworth collapsed on-stage in Germany after suffering a mild stroke. It would prove to be a minor setback, however, as the band continued to not only put out albums, but also to refine its sound, starting with 2003's Killbox 13 and continuing on with 2005's
ReliXIV
and 2007's
Immortalis
. In 2010, Overkill really experienced a new resurgence with the release of
Ironbound
, which even found the band making an appearance on the Billboard charts. They followed up with another album of classic thrash in 2012 with
The Electric Age
. Ellsworth suffered another health-related setback the following year, having to cancel some tour dates after contracting mild pneumonia. He soon bounced back, however, and, riding their new wave of success, they plunged back into the studio to record another fan-pleasing album of breakneck thrash. Titled White Devil Armory, it was released in July of 2014 through Nuclear Blast. ~ Steve Huey, Rovi
full bio
Selected Discography
Similar Artists