Free personalized radio that
plays the music you love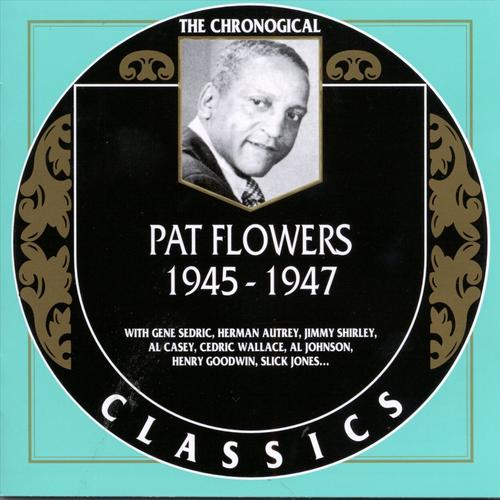 People who also like this
Pat Flowers grew up under the influence of Thomas "Fats" Waller, and schooled himself in the challenging art of Harlem stride piano, eventually developing a dazzling technique. For a little while during the mid-'40s, he even worked for the Victor record company as a
Fats Waller
imitator in a belated maneuver by Victor to compete with Vocalion, whose
Waller
emulator during the '30s was Putney Dandridge, and with Decca, whose ebullient singing pianist Bob Howard was still emitting Wallerisms in 1947. Each of these men was at his best when staying true to his own talent and persona while honoring the influence of
Fats Waller
and the rest of the Harlem stride piano school. Flowers was good friends with stride piano legend Donald Lambert, and both men were stunningly gifted improvising artists. Lambert, however, remained silent at the piano, while Flowers expended a lot of energy trying to sing like
Waller
. The story of Flowers is an object lesson in the delights and dangers of copying someone else's act with the best of intentions.
Born in Detroit, MI on October 16, 1917, Ivelee Flowers received classical training at a conservatory there while spending much of his youth listening to
Fats Waller
records and seeing
Waller
perform live whenever possible. When he was about 19 years old, Flowers befriended the famous pianist, who recognized the young man's abilities and advised him to pursue a career as a professional musician. In 1939 when Waller & His Rhythm settled into the Yacht Club on 52nd Street in New York City, Flowers got a gig playing piano in the lobby, where he was heard by producer
John Hammond
, who tried to secure bookings for the aspiring entertainer. After gravitating back to Detroit for long enough to establish what would become a protracted working relationship with the management at Baker's Bar at Eight Mile and Livernois, Flowers returned to New York where he performed at the Swing Club, the Famous Door, and various musical bars in Greenwich Village. His first recordings, made in 1941, attracted little attention.
After
Waller
passed away suddenly in December 1943, Flowers continued to play and sing like his idol. Following in
Waller
's footsteps, he accepted an invitation from
Waller
's last manager Ed Kirkeby to star in an all-star Tribute to Fats Waller that was broadcast in February 1945 and made records for Hit, Guild, and V-Disc. Flowers' instrumental recordings of 1945 included delightfully executed stride and swing adaptations of classical works by J.S. Bach, Johann Strauss, and Frederic Chopin, as well as ballads and standards, and eight-to-the-bar exercises like the "Eight Mile Boogie," an inspired invocation of his turf back home in the Motor City. During the summer of 1946, Flowers began recording for
Waller
's label Victor with Herman Autrey, Gene Sedric, Cedric Wallace, and Slick Jones, musicians who had spent years as the core of
Waller
's little Rhythm band. The group was billed as Pat Flowers & His Rhythm.
Ed Kirkeby, who had made hot jazz and novelty records with the California Ramblers in the 1920s, now acted as manager for Flowers and helped him concoct clever titles like "Bring Me Some Money Honey," "Exhilarated, Exasperated, Exhausted," and "Aloysius Do the Dishes." Other material was borrowed from
Louis Jordan
,
the King Cole Trio
and, of course,
Fats Waller
. During 1948, Flowers was forced out of the studio by the AFM recording ban; his solution was to hasten back to regular bookings at Baker's Bar, which was renamed Baker's Keyboard Lounge during his extended residency. In November 1955, Flowers opened for
Art Tatum
, and in February 1956 he played his last set at Baker's; he moved over to the Danish Inn in Farmington. He also managed to do a little recording for the Dot record label. Although he toured Europe in the mid-'70s and recorded for Black and Blue with a group that featured bassist
Slam Stewart
, much of the rest of his life was spent in relative obscurity. Pat Flowers passed away in Detroit on October 6, 2000. Most of his recordings have been reissued in the Classics Chronological Series. ~ arwulf arwulf
full bio
Selected Discography
Similar Artists
Don't have a Pandora account? Sign up
Already have a Pandora account? Log In