Free personalized radio that
plays the music you love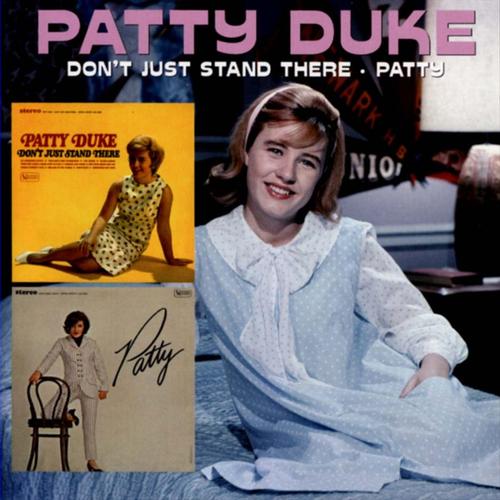 People who also like this
Patty Duke was the most acclaimed child actress of her generation, and unlike child stars from earlier in the century, she really could act. By sheer chance, her older brother Raymond had introduced her to his agents, John and Ethel Ross, a childless couple who specialized in the work of child performers. The Rosses immediately took Duke in hand, renaming her Patty (after child star Patty McCormack, then doing The Bad Seed on-stage), getting her jobs on television (beginning in 1953 with an appearance as a dancer on the Voice of Firestone series) and in movies. By the time she was 12, Duke had done four major feature films (including I'll Cry Tomorrow and The Goddess) and 50 television shows (among them an appearance on The $64,000 Challenge, where she was coached in the answers along with her contestant-partner
Eddie Hodges
-- she later revealed everything to a Congressional investigating committee), as well as in a number of commercials.
The milestone in her performing career, however, was The Miracle Worker, a play about the early life of the deaf-blind
Helen Keller
, which had previously been done on television with Patty McCormack, the child star after whom the Rosses had chosen Duke's theatrical first name. Duke became a star on Broadway at age 12 playing
Keller
in The Miracle Worker opposite Anne Bancroft as
Keller
's teacher Annie Sullivan. Not only was the play a hit, but Duke won numerous theatrical awards, and the producer later placed her name above the title on the marquee and in the advertising, the youngest performer ever so honored. She starred in the 1962 movie version and won the Best Supporting Actress Academy Award the following spring, when she was 14 years old, the youngest actress ever to win a competitive Oscar, besting
Angela Lansbury
in The Manchurian Candidate, among other nominees.
Amid all of this success and acclaim, Duke was, as she later revealed, horribly abused by John and Ethel Ross, who forced her to take drugs (even giving her the anti-psychotic drug Thorazine) and served her alcohol regularly before she was in her teens. John Ross also tried to molest her sexually, and their overall treatment destroyed whatever chance she had for a normal childhood, as well as devastating her adult life.
To millions of American teens, however, Duke was about to become the quintessential bubbly American teenager. In 1963, even before the Oscar was won, she was signed by United Artists Television to star in her own series, eventually known as The Patty Duke Show. The series was developed by future best-selling author Sidney Sheldon, with whom Duke spent a few days -- as she later revealed, he probably detected the psychological problems that she was suffering from without recognizing them, seeing in her two completely different girls, and coming up with the concept for the show -- Duke played a dual role, Patty Lane and Cathy Lane, lookalike cousins with very different attitudes toward life.
The Patty Duke Show was an immediate hit, and ran through 1966, turning Duke into one of the most popular teenage stars of the era -- kids who never heard of
Helen Keller
or The Miracle Worker loved Duke in her role of Patty Lane, the teenage high-school girl who, as the theme song said, "likes to rock & roll/A hot dog makes her lose control." She was certainly the youngest performer ever to get a series named after her (this was usually reserved for people like
Andy Griffith
, Dick Van Dyke,
Bill Cosby
, and Mary Tyler Moore, all of whom had some kind of track record), and it was still popular at the end of its run in 1966 -- in fact, ABC wanted to renew it for another season, but wanted it in color, and United Artists was unwilling to commit to the higher production costs.
The series' success led to an attempt by United Artists Records to market Patty Duke as a teen pop star, which succeeded briefly in 1965 with the single "Don't Just Stand There." That record reached number eight on the charts, and the accompanying album was also a hit. Her subsequent singles and the next three albums, Patty, Patty Duke's Greatest Hits, and TV's Teen Star, plus the soundtrack to the 1965 movie Billie, on which she sang two songs, didn't fare nearly as well. Ironically, Duke knew that she was no singer but had faith that her producers would create something listenable -- she loved singing, although the recording process later became such agony that she came to loathe the work she was doing in the studio, and abandoned it at her earliest opportunity, in 1968.
Duke's later acting career faltered in movies like Valley of the Dolls, although she later won a Golden Globe Award as Best Actress for her performance in Me Natalie, and an Emmy for her work in My Sweet Charlie. By that time, the torments of her earlier life had begun to blight her adult existence, and her life was marred by unhappy marriages and divorce, as well as other personal problems. She later authored two books and served as president of the Screen Actors Guild from 1985 through 1989, and won more Emmy Awards. She continued to act, and was billed as Patty Duke Astin, as well as Patty Duke, following her marriage to actor John Astin. Patty Duke died in March 2016 at the age of 69. Although she did numerous adult roles, and wrote (successfully) on very serious subjects, to a certain segment of the population born during the '50s she always evoked images of the quintessential American teenage girl of the '60s. ~ Bruce Eder
full bio
Selected Discography
Similar Artists
Don't have a Pandora account? Sign up
Already have a Pandora account? Log In