Free personalized radio that
plays the music you love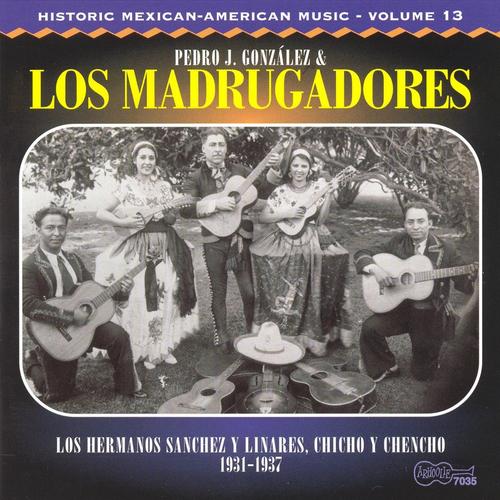 People who also like this
Pedro J. Gonzalez & Los Madrugadores
Pedro J. Gonzalez had an important role in Mexican-American music of the twentieth century, as both a performer and, to a greater extent, a popularizer of the style. His greatest musical accomplishment was founding
Los Madrugadores
, which with various personnel recorded constantly during the 1930s, becoming one of the most popular Mexican-American recording acts of the period. He was also a pioneer of Spanish-language radio broadcasting in the United States, although his influence in that area was curtailed by his controversial imprisonment in the mid-1930s.
Gonzalez, born in the Mexican village of Chihuahua in the mid-1890s, moved to Texas in 1917, after the Mexican Revolution. According to a legend recounted in the liner notes to Arhoolie's
Los Madrugadores
compilation 1931-1937, he was nearly shot by a firing squad while still in Mexico, but had his life saved when Maria Solcido and other school children stood in front of him, stopping the execution; Solcido became his wife. In 1923, the Gonzalezes moved to Los Angeles, and in 1929 Pedro began one of the first Spanish-language programs on the West Coast, on KMPC. Gonzalez could also sing, and in 1930 he was making his first recordings.
In 1931 Gonzalez joined forces with singer-guitarists
Jesus
and Victor Sanchez, subsequently augmented by singer Fernando Linares. This was the group that Gonzalez named
Los Madrugadores
, who recorded both traditional Mexican songs and contemporary compositions in the same style throughout the 1930s. While Gonzalez sometimes sang with musicians from
Los Madrugadores
on singles, many of the discs did not benefit from his participation.
Los Madrugadores
were more a floating group of Mexican-American musicians and singers than they were a permanent lineup, and various releases appeared under their name that featured different combinations of individuals, including the
Sanchez
brothers,
Linares
, Narciso Farfan, Crescencio Cuevas, and Josefina Caldera.
Los Madrugadores
' records had close harmonies, accomplished guitar playing, and emotive delivery, and were among the most popular Mexican-American releases of the time.
In 1934, Gonzalez was sentenced to one-to-fifty years in San Quentin prison on rape charges. The woman he was accused of raping subsequently admitted that she had been coerced into lying under oath, but this revelation was not admitted as new evidence, and
Gonzales
ended up serving six years.
Gonzales
had used his radio program to advocate social justice for Spanish speakers in Southern California, and to protest the deportation of hundreds of thousands of such people from the United States, and it has been speculated that there was political motivation behind his persecution. While in San Quentin,
Gonzales
continued to mobilize for justice, organizing hunger strikes and other acts of civil disobedience to improve conditions in the prison.
Gonzales
was paroled in 1940, after protests and appeals from two Mexican presidents, but deported to Mexico. He lived in Tijuana for 30 years and resumed radio broadcasting on XEAU, as well as forming a different edition of
Los Madrugadores
, which recorded under the name. He came back to the US in 1970, and was the subject of a 1983 KPBS documentary, Ballad of an Unsung Hero, which later provided the material for the movie Break of Dawn. He died at the age of 99 in 1995. ~ Richie Unterberger
full bio
Selected Discography
Similar Artists
Don't have a Pandora account? Sign up
Already have a Pandora account? Log In