We created Pandora to put the Music Genome Project directly in your hands
It's a new kind of radio –
stations that play only music you like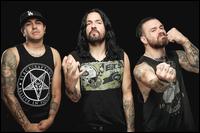 People who also like this
Rising out of the expansive early-'90s thrash metal landscape, New York's Prong carved a niche all their own with their minimalist urban take on the genre. After years working as a soundman at New York's CBGB, Tommy Victor (vocals/guitars) drafted doorman Mike Kirkland (bass) and ex-
Swans
drummer Ted Parsons to form Prong in the mid-'80s. The trio's early independent releases -- Primitive Origins and
Force Fed
-- were extremely raw and betrayed their hardcore roots. By the time the group signed with Epic for 1990's
Beg to Differ
, though, Victor and company had transformed into a highly technical thrash metal outfit, shelling out clinical staccato riffs and start-stop rhythms peppered with subtle melodies and occasional bursts of speed. The album's title track was a minor hit, helping to put the band on the map once it received regular exposure on MTV's
Headbanger's Ball
.
Ex-
Flotsam and Jetsam
bassist Troy Gregory replaced Kirkland for 1991's
Prove You Wrong
, which featured another strong single in "Unconditional," but was essentially a creative holding pattern and lost some of the band's momentum. Gregory was soon ousted and supplanted by two ex-
Killing Joke
and Murder Inc. members in bassist Paul Raven and keyboard player John Bechdel for 1994's
Cleansing
. Containing arguably their best work, the album saw a slight change of direction toward a more industrial sound, with Victor's precise riffing making way for a greater sense of groove and melody. It did little to increase the group's commercial appeal, however. Prong would disband following 1996's less inspired
Rude Awakening
.
Parsons
then went on to join British industrialists
Godflesh
while Victor toured with goth punks
Danzig
, but rumors persisted of an eventual Prong reunion.
Prong re-formed in 2000, and after releasing a live album,
100% Live
, the bandmembers went back into the studio to write their first studio album in six years, 2003's Scorpio Rising. Signed to
Al Jourgensen
's 13th Planet label, Prong released their seventh album,
Power of the Damager
, in 2007. A remix album, Power of the Damn Mixxxer, followed in 2009 before the band returned three years later with
Carved into Stone
. Their ninth album, the thrash-heavy Ruining Lives, appeared in May of 2014. The all-covers album
Songs from the Black Hole
followed in 2015 and featured songs from influences like
Bad Brains
("Banned in D.C."),
Neil Young
("Cortez the Killer"), and
Sisters of Mercy
("Vision Thing"). ~ Eduardo Rivadavia, Rovi
full bio
Selected Discography
Similar Artists