Free personalized radio that
plays the music you love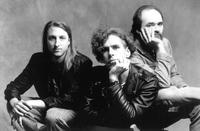 People who also like this
During their time off from performing with guitarist
Adrian Belew
in
the Bears
, guitarist/vocalist Rob Fetters, drummer/vocalist Chris Arduser, and bassist Bob Nyswonger decided to start a side project called
the Raisins
in the latter portion of 1988. The name derived from a band they had previously been involved with years before. Not wanting to be confused with the animated California Raisins at the time, however, the band asked an audience what they thought
the Raisins
should rename themselves. Someone shouted out, "Psychodots!" and the rest is history. Following three years of performing in area Cincinnati clubs, the group released their self-titled 14-song debut on Cincinnati imprint Strugglebaby in 1991. The release featured an array of quirky pop music penned by all of the band's members. After another two years of performing in the Cincinnati area, the Psychodots released their second CD on Strugglebaby, titled On the Grid, in 1993. Various tracks, such as Nyswonger's "King of Beers" and "Copy Machine," received heavy airplay in southeast Ohio and became staples of the group's live shows.
During the beginning of 1994, the Psychodots received a call from their old friend
Belew
, who wanted the group to open on his national tour in support of his solo record, Here. That's not all
Belew
wanted -- he also asked the group to be his backing band for the performances. Realizing that it was a perfect opportunity to get their name out across the country, the band issued an EP on Strugglebaby called Blotter. The disc culled songs from their first two releases and added one new track, titled "Moaner." Following their eight-week summer tour, the group returned to Cincinnati to record their third full-length CD for Strugglebaby. The disc, dubbed Awkwardsville, hit stores in 1995. At this point in time, the band was recognized for creating some of their most outstanding original compositions and was also being noted for their live shows. They even had a song from Awkwardsville placed on a Pepsi Jammin' on Main CD Sampler '96 and a live version of "Moaner" on the compilation Exit 89: Natural Alternatives, Vol. 2, released by public radio station WNKU in Cincinnati.
The Psychodots supported Awkwardsville by playing shows in Louisville, Indianapolis, Dayton, and Chicago. The band began to wonder if they would ever receive a major record distribution deal, though, and started to experience diminishing crowds at their shows, although critical appraise was positive. As a result, the Psychodots found it hard to book gigs, and in November of 1996 they announced that they would take an extended hiatus. The band performed two last shows -- one at Cincinnati's Ripply's on November 8 and one at Dayton, OH's Canal Street Tavern on November 16. The following year, the group was bestowed with the title of Cincinnati's Favorite Band at the Cincinnati awards show, the Cammys. The Psychodots didn't perform at the event, but according to www.psychodots.com, as Nyswonger accepted the award, he said, "We're not playing right now...that doesn't mean we'll never play again." Before the year was out, they regrouped for two shows in southern Ohio.
The year 1998 found the Psychodots once again reuniting for a May performance at the Cammys, where Arduser's other band, the Graveblankets, received the award for Best Folk Band, and Fetters was honored with the titles of Best Rock Instrumentalist, Songwriter of the Year, and Best Solo Act. Besides performing five more shows that year, the group decided to release material from their last 1996 show from Cincinnati, performed shortly before they took their hiatus. The band gathered to promote the disc, titled Official Bootleg, at Everybody's Records in Cincinnati on October 24. After roughly two more years of not playing any shows together, the Psychodots decided to perform a couple of gigs in 2000. The first of the shows took place at the Canal Street Tavern on November 22 and the second was held at the Southgate House in Newport, KY. After the performances were over, the band confirmed that more gigs were being planned for the following year. ~ Stephen Howell
full bio
Selected Discography
Similar Artists
Don't have a Pandora account? Sign up
Already have a Pandora account? Log In