We created Pandora to put the Music Genome Project directly in your hands
It's a new kind of radio –
stations that play only music you like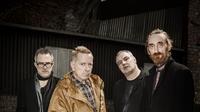 People who also like this
One of the first and most significant post-punk bands, Public Image Ltd. (PiL) were originally a quartet led by singer
John Lydon
(formerly Johnny Rotten, born January 31, 1956) and guitarist Keith Levene, who had been a member of
the Clash
in one of its early lineups. The band was filled out by bassist
Jah Wobble
(
John Wordle
) and drummer Jim Walker. It was formed in the wake of the 1978 breakup of
Lydon
's former group,
the Sex Pistols
. For the most part, the band's early incarnation devoted itself to droning, slow-tempo, bass-heavy noise rock, overlaid by
Lydon
's distinctive, vituperative rant. The group's debut single, "Public Image," was more of an uptempo pop/rock song, however, and it hit the U.K. Top Ten upon its release in October 1978. The group itself debuted on Christmas Day, shortly after the release of its first album, Public Image. Neither the single nor the album was released in the U.S.
Metal Box, the band's second U.K. album, came in the form of three 45-rpm 12" discs in a film canister. It was released in the U.S. in 1980 as the double-album Second Edition. By this time, PiL were a trio consisting of
Lydon
, Levene, and
Wobble
; the latter two played some of the drums on recordings, while the position was held by a series of percussionists, none of whom stayed long. The third album, not released in the U.S., was the live Paris au Printemps (1980).
Lydon
and Levene, plus hired musicians, made up the group by the time of The Flowers of Romance (1981), the much-acclaimed fourth album, which reached number 11 in the U.K. In 1983, PiL scored their biggest U.K. hit when "This Is Not a Love Song" reached number five. By this time, however, Levene had left, and the name from here on would be, more than anything else, a vehicle for
John Lydon
(though with a comparatively steady lineup). A second live album, Live in Tokyo, appeared in England in 1983.
The following year saw the release of This Is What You Want...This Is What You Get, only PiL's third album to be released in the U.S., though by now the group had six albums out. It marked the start of
Lydon
's move toward a more polished and accessible dance-rock style, a direction that would be pursued further in 1986's Album (also called Cassette or Compact Disc, depending on the format), notably on the hit "Rise," as well as on Happy? (1987) and 9 (1989). In 1990, PiL released the compilation album The Greatest Hits, So Far, and in 1991 came the new album That What Is Not. After completing his memoirs in late 1993,
Lydon
decided to put PiL to rest -- largely the result of contractual issues -- and pursue a solo career. The career-spanning box set Plastic Box arrived in 1999, but otherwise the band seemed truly dead until 2009 when
Lydon
announced he was reviving the project for a short set of gigs in the U.K. The new PiL, featuring past members Lu Edmonds and Bruce Smith, along with Scott Firth, were so warmly received in their homeland that a U.S. tour followed in 2010. An album of all-new material, This Is PiL, followed in 2012. ~ William Ruhlmann
full bio
Selected Discography
Similar Artists