Free personalized radio that
plays the music you love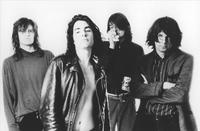 People who also like this
P**sy Galore didn't invent noise rock, but they did change the way many musicians approached the notion of transforming chaotic noise into music. Early on, most bands that embraced noise as an aesthetic either had an arty world-view, a philosophical axe to grind, or some combination of the two. P**sy Galore, on the other hand, simply embraced godawful racket for the hell of it, laying out willfully primitive and technically ragged music drawn from '60s garage punk, gutbucket blues, and several generations of attitudinal and misbehaving rockers (most notably
the Rolling Stones
), all wrapped up in a simple but aggressive agenda of annoying anyone within earshot, even those who had sympathy for their approach.
P**sy Galore were formed in 1985 in Washington, D.C. by vocalist and guitarist Jon Spencer, vocalist and guitarist Julia Cafritz, and drummer John Hammill; they also frequently included additional percussionists who would bang on pieces of metal. In the interest of greater ear-splitting chaos, the band did without a bassist, and a few months after forming they booked time in a tiny recording studio to cut their debut 7", an EP called Feel Good About Your Body, which was released on the trio's own Shove Records label in January 1986. A few months later, P**sy Galore were back with a 12" EP, Groovy Hate F**k, which introduced the band's third guitarist, Neil Hagerty. Groovy Hate F**k's cover photo was snapped by a young photographer named Cristina Martinez, who caught Spencer's eye and would soon join the lineup on guitar and organ, despite her lack of musical experience (something that didn't burden most of the members of the group).
Between their frantic, noisy attack and song titles like "Teen P**sy Power," "You Look Like a Jew," and "F**k You, Ian MacKaye," it didn't take long for P**sy Galore to get noticed, and after thoroughly polarizing the D.C. music community, the band relocated to New York City in search of a larger audience. Drummer Hammill opted to stay behind, and former
Sonic Youth
timekeeper Bob Bert joined the group in his place. When a rumor began to circulate that
Sonic Youth
were working on an album in which they would cover
the Beatles
' White Album song by song (a rumor that proved to be false), P**sy Galore decided to create their own preemptive response, cutting a jagged, lo-fi reinterpretation of
the Rolling Stones
' Exile on Main St. that was issued on a limited-edition cassette; the release earned P**sy Galore a great deal of press attention, even though they only produced 550 copies of the tape.
Independent New York label Buy Our Records teamed up with P**sy Galore for their next release, the EP P**sy Gold 5000, which arrived in stores in early 1987. P**sy Galore soon headed to Chicago to record their first proper album with fellow curmudgeon Steve Albini at the controls, and P**sy Galore, Right Now! was issued by Caroline Records in September 1987. Neil Hagerty sat out the sessions for the 1988 EP Sugarshit Sharp, as did Cristina Martinez, but Hagerty was back (along with additional guitarist Kurt Wolf) for 1989's Dial 'M' for Motherf**ker. However, the band was starting to run out of steam, with Julia Cafritz dropping out prior to the recording of 1990's Historia de la Musica Rock, and not long after the album was released, P**sy Galore finally broke up.
Given P**sy Galore's busy and often contentious existence, most of the bandmembers went on to surprisingly successful careers in the wake of the band's breakup. Jon Spencer would, of course, front
the Jon Spencer Blues Explosion
, and formed
Boss Hog
with Cristina Martinez, who had become his wife. Julia Cafritz would go on to perform with the bands Guv'ner and Action Swingers, and would perform in
Kim Gordon
's side project
Free Kitten
. And
Michael Hagerty
(also billing himself as
Neil Michael Hagerty
) would record with
Royal Trux
,
Weird War
, and
Howling Hex
, as well as cutting several solo albums. ~ Mark Deming
full bio
Selected Discography
Similar Artists
Don't have a Pandora account? Sign up
Already have a Pandora account? Log In