We created Pandora to put the Music Genome Project directly in your hands
It's a new kind of radio –
stations that play only music you like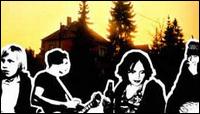 People who also like this
The Radio Dept. were one of the more successful shoegaze-influenced indie rock bands to come out of Sweden in the early 2000s, making waves among indie aficionados on the strength of their critically acclaimed first release,
Lesser Matters
. Elin Almered and Johan Duncanson formed a prototypical version of the group in Lund, Sweden, in 1995 while they were in high school, naming the group after a gas station called Radioavdelningen. Almered and Duncanson disbanded almost as soon as they'd found a name, but Duncanson revived the group three years later, teaming up with Martin Larsson. Bassist Lisa Carlberg, drummer Per Blomgren, and keyboardist Daniel Tjader rounded out the lineup in 2001, and things took off for the group at that point. They sent a demo to Sonic magazine, which went on to feature the band on a CD sampler. Swedish indie giant Labrador caught wind of the demo via the sampler and snapped the band up; the group's debut full-length,
Lesser Matters
, arrived two years later, during which time Blomgren amicably split with the group. That album and the band's second release on Labrador, 2005's Pulling Our Weight EP, received widespread attention with the release of Sofia Coppola's Marie Antoinette, which featured "Keen on Boys," "Pulling Our Weight," and "I Don't Like It Like This."
Carlberg left the group soon after Pulling Our Weight was released, and the group refrained from hiring another bassist, opting instead for the use of a drum machine on its next album. That release, 2006's
Pet Grief
, found Duncanson and Larsson turning away from the guitar-driven aspects of their first full-length and delving into synth pop in the spirit of
the Pet Shop Boys
. Due to various factors, including the fact that the band didn't tour heavily in support of the album,
Pet Grief
failed to sell as well as its predecessor and received little attention from the mainstream music press. The Radio Dept. took their time recording material for their next album, and it wasn't until summer of 2008 that a new single,
Freddie and the Trojan Horse
, was released. More delays led to nothing further surfacing until the next summer, when the single
David
was released. The album that had been rumored to be finished in late 2008,
Clinging to a Scheme
, finally saw the light of day in April of 2010. ~ Margaret Reges & Tim Sendra, Rovi
full bio
Selected Discography
Similar Artists