We created Pandora to put the Music Genome Project directly in your hands
It's a new kind of radio –
stations that play only music you like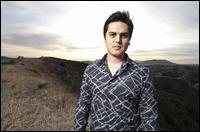 People who also like this
Regulo Caro is a singer and songwriter of regional Mexican music who hails from Badiraguato in Sinaloa. He is currently based in Ciudad Obregon, Sonora. His songs have been recorded by a wide array of artists including
Julión Alvarez
, Los Bohemios de Sinaloa,
Los Nuevos Rebeldes
, Banda MS, Raúl Hernández, and Los Buitres y Alfredito Olivas, to name a few. Caro formed his first band at 13, and at 16 began playing family events and regional gatherings. He gave up music for a time to attend college, where he received a degree in business administration. After graduating, he worked briefly, but his grandfather intervened and encouraged him to pursue music as a career.
Caro's initial break came after vocalist and cousin
Gerardo Ortíz
recorded a couple of his songs and brought him to the attention of Mexico's Del Records. The label signed him to a recording and publishing deal.
Música Polvora y Sangre
, his debut offering, appeared in 2011 to rave reviews and respectable chart success. Caro's alternative approach to writing gave his norteño and banda tunes irresistible hooks and unusual tuba lines. His 2012 follow-up,
Amor en Tiempos de Guerra
, received massive radio airplay and chart recognition. In August of 2013 he released his third album,
Especialista
., Rovi
full bio
Selected Discography
Similar Artists