We created Pandora to put the Music Genome Project directly in your hands
It's a new kind of radio –
stations that play only music you like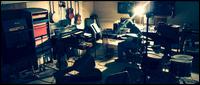 People who also like this
The Resonars started out in 1992 as the brainchild of guitarist and chief songwriter Matt Rendon of Tucson, Arizona. Rendon, in fact, had adopted the "group" name as a tribute to a '60s Tucson band of the same name, which had featured his older brother, John Rendon. Rendon's four-track recordings -- made at his own Coma Cave home studio -- were a blend of moody, introspective psychedelic pop, folk-rock harmonies, and garage rock. Rendon continued to record on his own, and in 1998, released the first Resonars album, on which he had four-tracked himself on all instruments and vocals. This cassette-only release was issued on the Tucson-based Star Time Records (not to be confused with StarTime International Records of Brooklyn). After a lengthy period, Rendon added additional musicians -- guitarist Eric Royer, drummer Dustin "OJ" Moyer, and bassist Mick Huxley (later bassist Forest Dunn) -- to his Resonars' lineup for live shows and for additional recordings. Two 7" singles and numerous homemade cassette releases (including Tripping in Your Coffin) were made available to fans at their shows. Their second album, the critically acclaimed
Bright & Dark
, was issued by Get Hip in 1999, with Rendon again playing all of the instruments himself.
Rendon had always intended to get a new band together to play live shows, but eventually retired the Resonars moniker in October 2000. By then he had accumulated scores of collected homemade recordings, some of which he began to release as Kilgore Trouts. He also continued playing shows with Al Perry & the Cattle. After moving to the Seattle area, Rendon joined the Vultures (he plays the drums under the name "Mickey Finch"). The group also featured Heath Heemsbergen, who had known Rendon when he was a member of the Tucson band the Fells. Rendon later returned to the Tucson area and joined
the Knockout Pills
, a garage punk band featuring members of the Weird Lovemakers and Los Federales. Royer, meanwhile, returned to his hometown, near Boston, and turned away from rock as his love of the banjo increased. He'd begun playing on the streets of Tucson, and eventually designed a "guitar machine" to play his one-man band shows, accompanying himself on the Dobro and harmonica. Royer has recorded several albums. In 2002, Rendon resurrected the Resonars name for a new release on Get Hip called Lunar Kit, which featured both sides of the 2000 released "Floor Lamp Eyes" b/w "She's in Love with Her" (Star Time Records) 7". In June of 2002, a new Resonars album was released on Get Hip Records. Titled Lunar Kit, it recalled the last album and even included the single released between the two albums.
After a long break from the Resonars, Rendon returned in 2008 with the band's last album for Get Hip,
Nonetheless Blue
. Jumping over to the influential California label Burger Records, the band continued cranking out great records, with
That Evil Drone
in 2008 and Crummy Desert Sound in 2011. After recording an EP for Trouble in Mind (Long, Long Thoughts) in 2012, the label released The Greatest Hits of the Resonars, a career spanning sampler of Rendon's genius, in 2013. ~ Bryan Thomas, Rovi
full bio
Selected Discography
Similar Artists