We created Pandora to put the Music Genome Project directly in your hands
It's a new kind of radio –
stations that play only music you like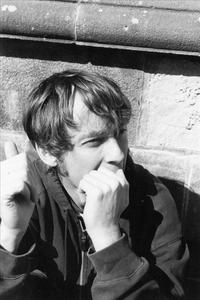 People who also like this
A multi-instrumentalist from Glasgow, Richard Youngs began releasing albums in the early '90s on various independent labels. His music ranges from pure experimental, instrumental, minimal, and avant-garde through to folk-inspired songwriting and progressive rock. In songwriting mode, he is similar to
Robert Wyatt
, Anthony Moore, and in particular other fine acts from Glasgow
John Martyn
and
the Incredible String Band
. In his more experimental projects with
Simon Wickham-Smith
and Brian Lavelle, the cacophonous roar is closer in style to '90s noise underground artists such as
the Dead C
,
Sun City Girls
, and White Winged Moth.
Youngs' CDs Advent and Festival were released on Table of the Elements and other indie labels.
Majora
and VHF released his solo efforts and collaborations with likeminded musicians such as Stephen Todd and (most commonly) with
Wickham-Smith
. Youngs has produced an expansive body of work and his recordings are diverse and cover many different areas of musical interest. There is a common thread in his material that links his recordings, however, an uplifting defiant and playful attitude giving the albums a common charm, in that they expose the artist as joyously indulging in the delights of a hermetic and musical world. That is not to say that his music is obscure by any means; he has a network of publishers and followers the world over.
The Japanese Meme label released a Youngs CD in 1998 under the title of House Music; it was not the exploration into dance music that one might expect, but in fact a series of candid recordings made with his father in their home -- taking a literal interpretation of the title, one can hear rhythmic door slamming, crescendos up and down the staircase, and all manner of music and noise generated using architecture as an instrument. The Advent album from the early '90s is cited as a minimalist classic. That Youngs recorded it with only a kazoo and acoustic guitar does not suggest the complexity of the music, and in many ways this work navigates the territory occupied by American avant-garde minimalist masters
Tony Conrad
and
Terry Riley
, albeit with the laid-back ease of a post-punk autodidact. Elsewhere, he made recordings that predate
Autechre
and
Oval
in that they exploit the deconstruction of digital music systems, and the Radios series of CDs documents this side of his interests, while at the opposite end of the spectrum he recorded folk-inflected mantras with guiding lights of the English folk revival
Shirley Collins
and
Bert Jansch
; moonlight recordings seem a guiding principle.
For fans of intimate music, Youngs recorded many of his albums at home on portable recording equipment ranging in quality, but on record achieved beautiful and unique sounds from any range of instruments: kazoo, guitar, Casio organs, clock chimes, synthesizers, kitchen implements, and small percussion. A good comparison would be to
the Tall Dwarves
, whose home recording ethic started the lo-fi movement in New Zealand, or to the '80s Rough Trade and Creation artists such as
Raincoats
,
My Bloody Valentine
, and
the Pastels
. Like these artists, Youngs' recordings are charming in their inventive and experimental use of recording equipment. Using limited resources, he archives colorful and eccentric results and often reaches highly emotive peaks, as on the album Sapphie, a mournful suite eulogizing a friend by that charming name. Although his time spent as a sonic experimenter could still be heard in the attention to detail that graced his releases, Sapphie's appearance in 1999 signaled a new dedication to folkier sounds for Youngs.
He appeared next in 2001 in collaboration with Japanese guitarist and Acid Mothers Temple leader
Makoto Kawabata
and on a new solo outing, Making Paper. May arrived in 2002, followed the next year by Airs of the Ear; River Through Howling Sky was released in 2004. Rarely performing live, tours were forfeited in favor of his full-time profession as a writer and columnist for vegetarian cooking tips. Youngs was not entirely averse to live performance, however, and in 2005 he marked a notable appearance as a sideman as bassist for the first live appearance of the reclusive and often mythologized
Jandek
. The performance was documented for posterity on Glasgow Sunday. Later that year, two new Youngs recordings emerged, Naïve Shaman on Jagjaguwar and Partick Rain Dance on VHF.
Youngs continued to refine and shift his manner of composing and recording. In 2007 he released Autumn Response, a collection of intimate songs on which he accompanied himself only on acoustic guitar, but liberally applied digital delay on both his voice and the six-string to lend a dreamy quality to the proceedings. In 2009 Youngs issued a pair of albums, Like a Neuron on Dekorder and the brief, minimal, but emotionally resonant collection Under Stellar Stream on Jagjaguwar, where his singing voice was accompanied by bass, organ, harmonica, minimal percussion, piano, and synth. Youngs resumed his prolific pace in 2010 with Beyond the Valley of the Ultrahits, his first attempt to make a pop album -- albeit one with his own unique take on that notion. ~ Sylvie Harrison & Thom Jurek
full bio
Selected Discography
Similar Artists